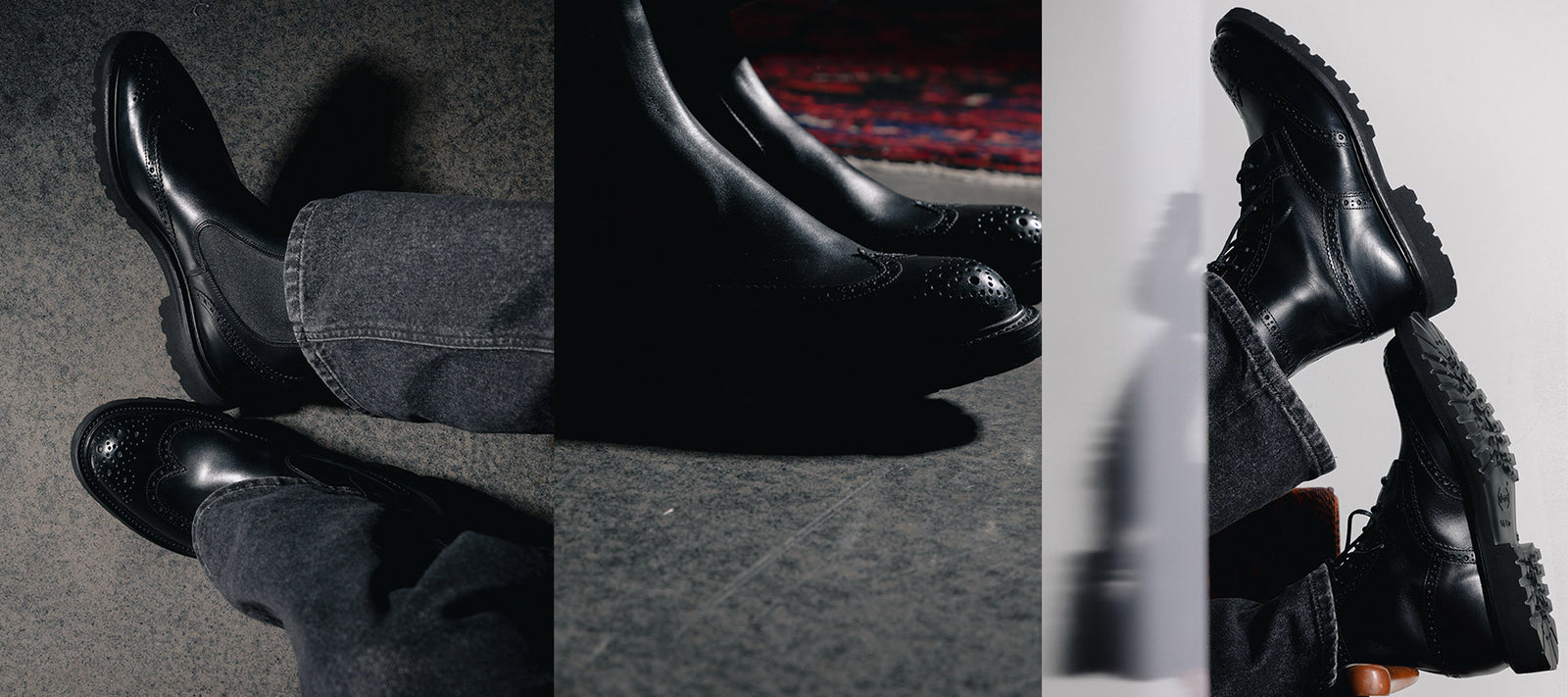 Tricker's Henry and Stow Boots in Olivvia Leather
Reinvention is the key to longevity. This holds true in most areas of life, but particularly in the increasingly crowded footwear scene. As it becomes harder and harder to reinvent the wheel, many brands have embraced entropy, flooding the market with flashy collabs and zany colourways that don't really contribute all that much to the pantheon. Ideas that really move the needle are hard to come by, and harder to recognize when they do come around. In the case of Tricker's new Olivvia Classic series, the storied shoemakers have found a way to innovate on their own terms, taking into account the widespread demand for more conscious manufacturing without giving up an inch of what makes their products special. From top to toe, the revitalized Henry and Stow boots are a marvel of sustainable innovation.
Let's start with the material, which is the real story here. If you haven't crossed paths with Olivvia leather yet, there's a good reason for that. Also known by its less-catchy name of Olivenleder®, Olivvia leather was actually created by Tricker's themselves in partnership with German tannery Weinheimer, with a two-year exclusive license to use the new material as they saw fit. Basically, Olivvia leather utilises a completely sustainable vegetable tanning process that applies an essence from olive leaves, a byproduct of the olive oil industry, to high-quality material sourced from the Alps of Austria, Germany, and Switzerland.
Tricker's Henry and Stow Boots in Olivvia Leather
The resulting leather is uniquely supple; it's soft to the touch though not without a bit of sturdiness, and behaves just like the high-quality leathers you're accustomed to seeing – right down to the smell (which has lovely olive-y undertones to compliment that distinctive leather aroma). Veg-tanned leather tends to be thicker, designed more for long-term, daily wear. This more deliberate approach is right in line with Tricker's craftsman mindset, which also informs their handmade, traditionalist methods and the decision to produce all their shoes close to home in Northampton, England. When you've got an almost 200-year reputation to maintain, as Tricker's does, finding ways to reinvent yourself and embrace sustainability without compromising your product is paramount.
In application, these two boots are Tricker's through and through. We're well-acquainted with both the Henry and Stow styles, but we've kept them to ourselves up to this point... apologies for that. We're sure glad we waited though, because we can't think of a better way to introduce them than in these all-natural, all-black remastered editions. Let's start with the Stow Country Boot, which is – for our money – the single most iconic Tricker's style. A hard-wearing, do-everything boot that would originally have adorned the feet of the so-called 'gentlemen farmers' of 19th century England, the Stow has a seven-eye design with a sturdy construction featuring Tricker's distinctive brogue pattern. Befitting its blue-collar roots, the boot's upper and sole are fused with a storm welt to form a watertight seal, in addition to a weather-proof half bellows tongue to ensure no moisture sneaks in.
The other thing that's a little bit different with both these boots is that they've been outfitted with a Vibram Vi-Lite outsole, which makes the shoe far lighter and much better suited to city life. This is especially important in the ultra-versatile Henry Country Dealer Boots, our second new addition to the shop this season. This elastic-sided brogue can go with just about anything, from hiking gear to a crisp black suit, and fits like a second sock for all-day comfort. They're also storm-welted, and with the addition of Olivvia leather they've got a rich patina and a solid feel capped off by soft leather linings on the inside for added wearability. The brogue pattern gives the shoe a certain smart sensibility, and the Vibram Vi-Lite Commando sole lends itself perfectly to the Stow's sleek silhouette.
It's fitting that two of the oldest, most recognizable Tricker's boots are the vessels for their game-changing new material. Reinvention doesn't always have to be a drastic change. These boots are a case study in innovating without compromising – a testament to true originality.
SHOP TRICKER'S