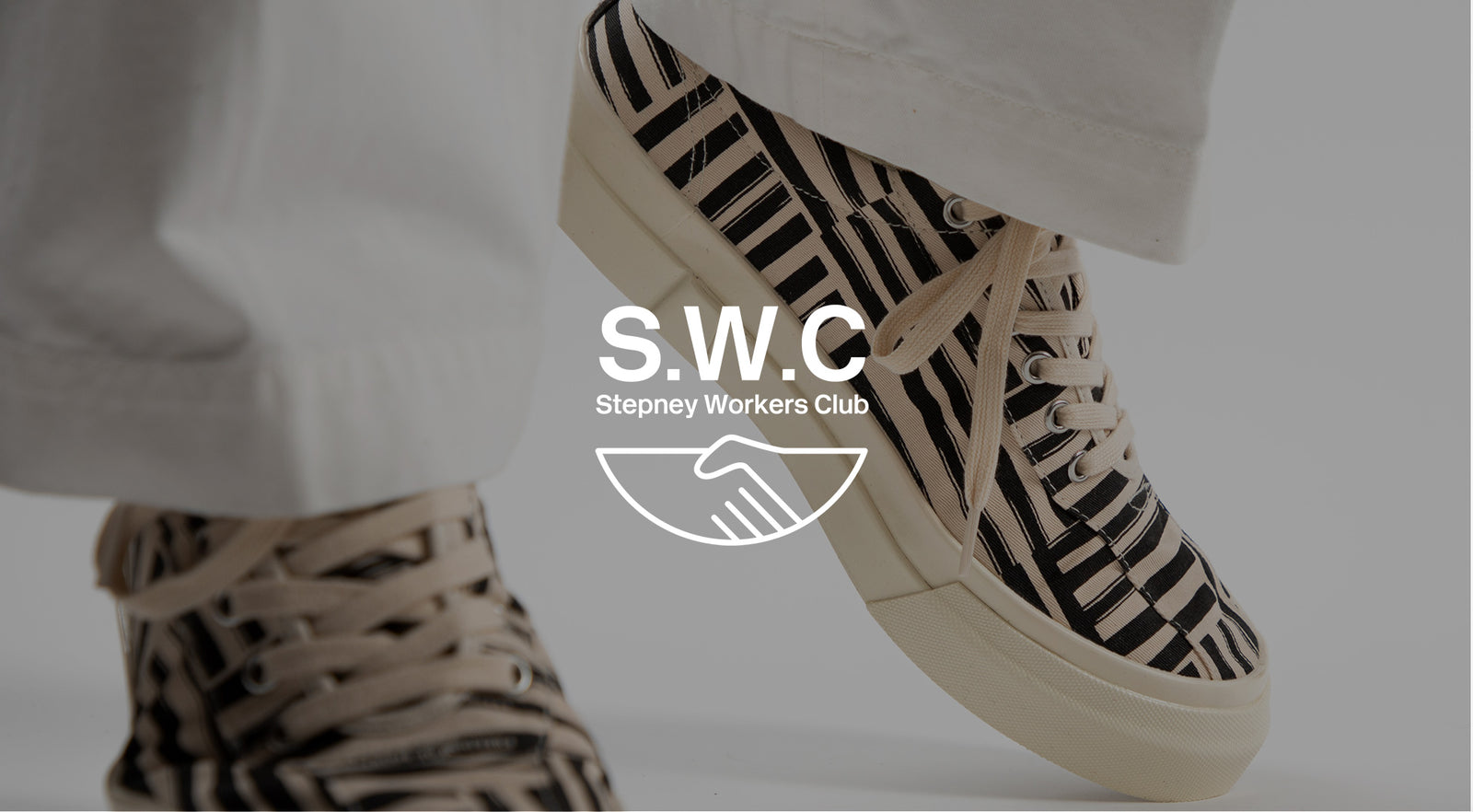 Canvas sneakers are the ultimate democratic shoe. From their advent as beach shoes in Victorian England to their status today as the footwear equivalent of blue jeans, canvas sneakers have been celebrated for their comfort, durability, and affordability. And damn-near everyone has worn them.
Let's take a quick survey: Victorian beachgoers, soldiers, tennis players, basketball players, schoolchildren, JFK, The Ramones, runners, hippies (when they wore shoes), skaters, frat boys, Marty McFly, the list goes on and on. Canvas sneakers are more popular today than they've ever been, but as is the case with any mass-produced product, that means quality can sometimes get left by the wayside. In 2018, East London brand Stepney Workers Club was founded to bring old-school quality construction back to the canvas sneaker, and oh boy did they hit the nail on the head.

After finding a vintage, impeccably made canvas sneaker, SWC founders Simon See and Roger Pereira realized that no brand was making the shoe that they wanted to wear; something that retained the egalitarian spirit of the canvas sneaker, and was still affordable, but was upgraded in every way. What they came up with was the Dellow, SWC's signature shoe. Grounded by a chunky vulcanized sole and high foxing, the Dellow has a sturdier look than your average Vans Old Skool or Chuck Taylor. Its canvas is substantial, but it still has a slim profile to balance out the hefty sole. They also threw in a pillowy insole for good measure, making these bad boys fit to walk, skate, or ride all day. In our humble opinion, it's the Platonic ideal of a canvas sneaker.


Clearly, the guys behind Stepney Workers Club have an appreciation for history. They've consistently taken inspiration from what people in the past have done right, which brings us to the name. SWC is named after the Stepney Workers Sports Club of the 1920's, a club that both founders have connections to. They've even assumed the original club's motto: "Freedom of sport, freedom of thought." It still makes sense to connect the two in 2020, but in the political climate of interwar Britain the slogan was a call for workers to resist the fascist machinations of factory owners and conservative governments. Workers sports clubs around the UK were deeply tied to the Communist and Labour parties, and they were responsible for making organized sport accessible to the common layperson. To that point in British history, athletics clubs had been the privilege of the wealthy, but the Workers Sports Club movement created the notion that sport should be all-inclusive. That history resonated with the founders of SWC, and it continues to inform their mission of making high quality, affordable sneakers that are designed to look good on everybody.

Since launching in 2018, Stepney Workers Club have continued to expand their offering with the Varden (basically a high-top Dellow) and the Lister slip-on. They've also seriously upped their materials game, with the Dellow now available in colourful suedes, leathers, and even a sumptuous corduroy. In case you couldn't tell, we're pretty stoked on SWC. There's very little these shoes can't do (and that's why every member of the Wallace team owns a pair).