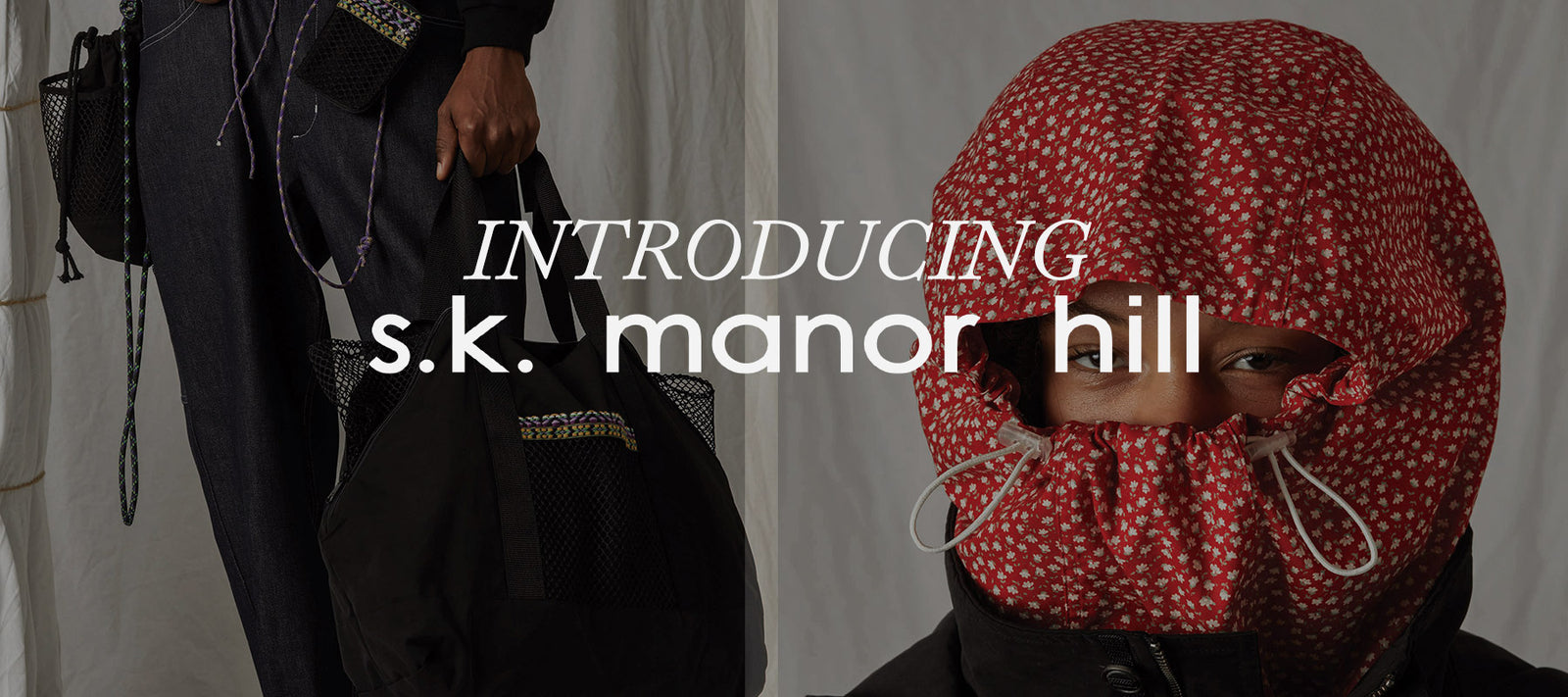 S.K MANOR HILL FW21
S.K. Manor Hill meshes effortless minimalism with conscientious sourcing to create timeless pieces that will accompany you through every facet of your life. The brand's worldly self-assuredness makes for pieces that are wholly distinct yet firmly grounded in fashions of the past. We've long admired S.K. Manor Hill's versatility and couldn't be more excited to welcome the label to the shop for the F/W 2021 Season. 
In designer Dominic Sondag's own words, S.K. Manor Hill makes clothing for "people who have an appreciation for clothing". The brand hit the ground running with their inaugural S/S 2016 collection and has been sneakily creating some of the most durable, distinct and varied pieces on the market ever since. Quality and attention to detail are first and foremost for the young label, but it doesn't hurt that they've managed to dial in the casual-cool aesthetic darn near flawlessly. The unique fabrics (100% natural and ethically sourced) provide pure textural bliss, making these easy-to-wear pieces even harder to take off. Attention-to-detail is another pillar of Sondag's creative ethos, which comes as no surprise thanks to the designer's stint with New York heavyweight Engineered Garments and close interaction there with the legendary Daiki Suzuki, who Sondag often cites as a mentor and inspiration. While this influence is readily apparent in the label's workwear sensibilities, S.K. Manor Hill frequently veers towards the unexpected in its design, augmenting classic silhouettes with vibrant colors, eye-catching patterns, and more practical, outdoor-inspired details. 
It's hard to pin down S.K. Manor Hill's many influences, and that's kind of the point. Dominic Sondag was brought up in San Francisco, studied fashion in Italy, completed an internship in London, and has since headquartered himself in New York's renowned garment district. Thanks to these many and varied experiences, the brand transcends trends and carves out a niche all its own. The often oversized, always unfussy designs allow for easy integration into pretty much any wardrobe and any situation, befitting the globe-trotting history of the brand. Theirs are truly the kind of pieces that are never out of place. Whether you're boarding an international flight or want to spice up your work-from-home uniform, S.K. Manor Hill's relaxed confidence adds a touch of refinement to pretty much any activity you can think of. 
For their latest campaign, S.K. Manor Hill takes influence from rock climbing gear to give us a selection of outdoor-inspired goodness perfectly suited for everyday wear. We can't stop thinking about pieces like the supremely comfy fleece lounge pants and half-zip pullover sweater – both featuring traditional Peruvian embroidery for the ultimate in loungewear elegance. s.k manor hill has also taken on and succeeded in redefining the humble sweater vest, giving us a beige beauty modernized with a boxy fit and recyclable organic cotton. Alongside these cozy standouts, we'll be carrying a host of accessories from the collection including a matching nylon tote and wallet necklace that would perfectly supplement any luggage set-up, as well as bold patterned additions like a quilted scarf and detachable hood. Worn together, these pieces form an enviable ensemble of refined ruggedness, but they're also versatile enough to stand on their own whenever you need an extra dose of comfort. Extremely functional and uniquely cool, s.k manor hill's F/W 2021 collection is not to be missed.
SHOP SK MANOR HILL
Shop S.K Manor Hill Collection