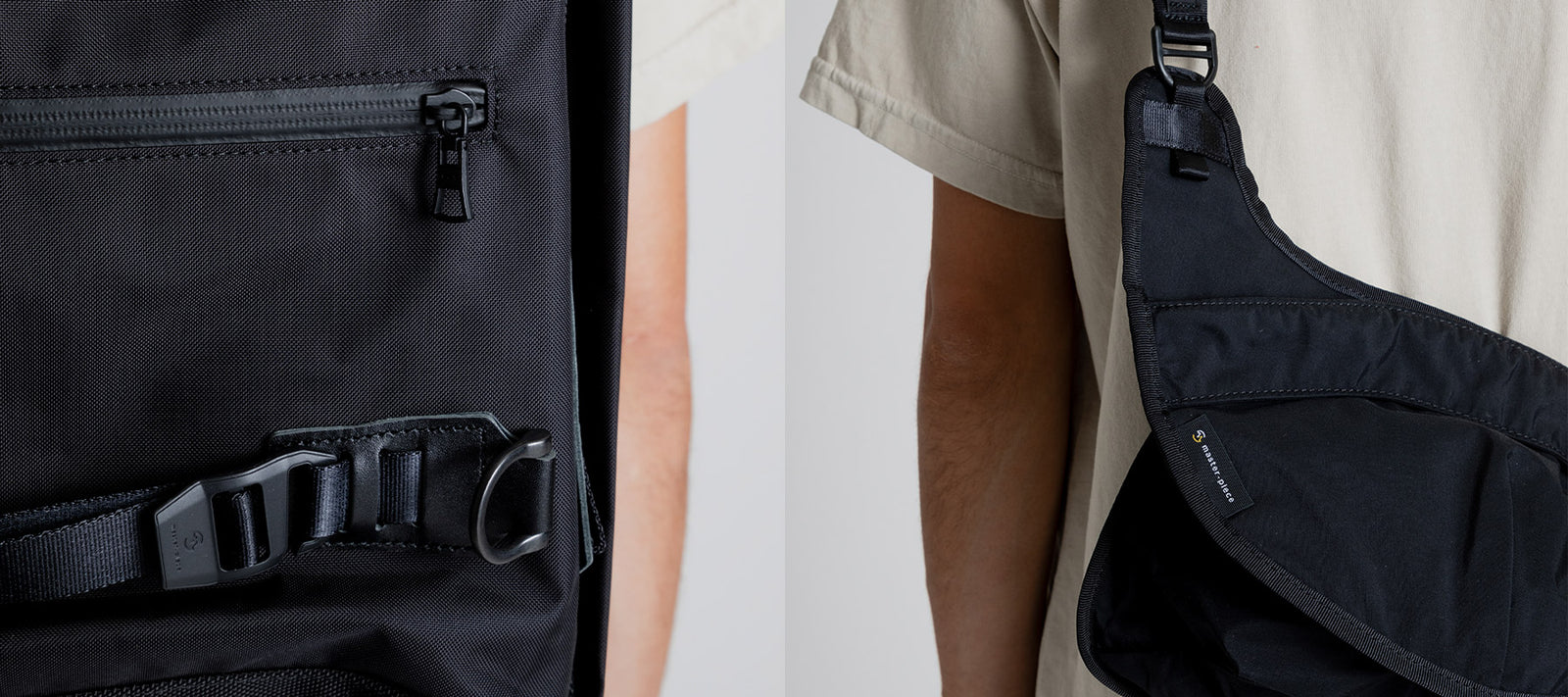 Introducing Master-Piece Bags
So you like gear, do ya? Well gather 'round folks, because today, we're coming to you live with some seriously cool bags – courtesy of our new friends at Master-Piece. Though their name might not be as familiar on this side of the Pacific, Master-Piece has been in business since 1994, proudly producing some of the finest, most stylish gear known to man. Among their many accolades, Master-Piece has played a not-insignificant role in popularizing the shoulder bag within both the domestic and international streetwear scenes, as well as carrying the torch for the Made in Japan movement long before it properly made its way to the west. Since 2008, Master-Piece has done everything out of their very own factory in Osaka, becoming one of the first Japanese labels to plant their feet in protest of overseas production.
Briefcases, backpacks, fanny packs, passport holders, shoulder bags, tote bags, wallets, key holders... whatever you're after, Master-Piece has got it. The silhouettes typically lean towards classic styles, but they do like to have a little fun with the materials and colour combinations. Notable examples include eco-friendly Solotex® tote bags in a variety of vivid hues, a series of stunning tartan bags, and a memorable collab with textile graphic brand Nowartt that features bold patterns and traditional Kinkasan Ori fabric for an idiosyncratic take on some of Master-Piece's most classic items. Regardless of which bag you land on; Master-Piece provides enough features and functionality to please even the most ardent everyday-carry enthusiast.
For our inaugural offering, we're highlighting some of the silhouettes that made Master-Piece such a force to be reckoned with. Shoulder bags and slings feature heavily, such as the Confi Shoulder Bag – a premium offering down to the last detail, with Italian cowhide leather from Monfrini Pellami Tannery and a seriously heavy-duty Cobra Buckle to ensure everything stays securely fastened. The Face Shoulder Bag is another certified classic that falls on the more minimalist side of Master-Piece's impressive lineup. Waterproof both in and out thanks to a 3-layer nylon exterior and Breathatec® lining, the Face bag hides so much storage space behind its central flap, opening to reveal a roomy drawstring pouch and two smaller compartments for sundries – there's even an included carabiner for carrying your keys!
Introducing Master-Piece Bags
The grandaddy of Master-Piece's roster, though, is the POTENTIAL-V3 Backpack. This monster is essentially three bags in one, going from backpack, to messenger bag, to briefcase as needed. Within, you'll find all the organization options you could ever need, including a handy padded laptop compartment. The outer uses a mix of MasterteX-07 nylon CORDURA® fabric and cowhide leather, as well as Outlast® technology in areas like the back, which serves to regulate your skin's temperature over long periods of use.
Master-Piece aren't just bag specialists, either – they've recently augmented their extensive lineup of carrying solutions to include a new 'Wear' line of functional fashions designed to pair with their bags for an even better stuff-carrying experience. Hitting our shelves this fall, we've got the EQ Key Holder and a gorgeous Master-Piece branded Carabiner in your choice of green or black – both stunningly simple in form, and only going to get better with time thanks to carefully selected cowhide leathers and elegant metal finishes. The thought that goes into every seemingly simple piece boggles the mind. You'll need to wrap your head around seeing product specs like 1680d CORDURA Ballistic® nylon, 600d polyester, and MASTERTEX-04, but all you really need to know is that Master-Piece is giving you some of the best bags money can buy.
If you're in the market for smart, savvy solutions for holding anything and everything, look no further than Master-Piece – live on the site and in-store now.
SHOP MASTER-PIECE BAGS