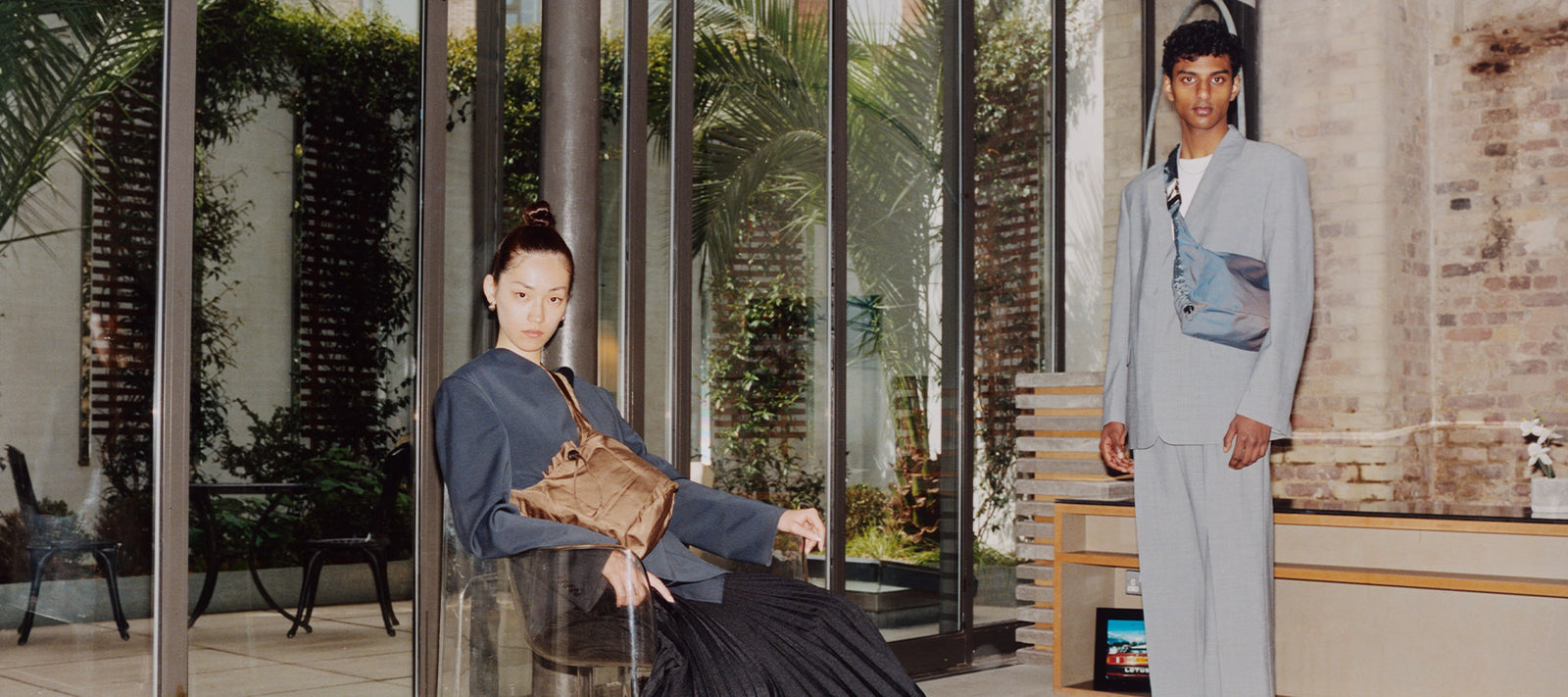 Arcs London Bags
ARCS eschews the usual tropes of sustainability in fashion in favour of a more holistic, forward-looking approach to designing long-lasting luggage & accessories. The young label's first collection dropped just over a year ago during the SS22 season, touting a new form of "slow design" that puts an emphasis on good-looking and highly functional pieces that play their part in creating a better future. When we look for new brands to work with, we always try to seek out good folks making good products that also happen to be good for the environment. ARCS delivers on all accounts.
As they'll tell you themselves, fabrics are where everything begins for ARCS. From the moment they launched, the label has been doing some pretty darn cool things with textiles (to say the least): their first collection utilized leather alternatives made from food waste, as well as piece-dyed recycled polyester and a signature 'ARCS Twill' which is made from recycled plastic bottles. For their SS23 collection, ARCS has devised a new 'Sea' material, made from a polyester-nylon blend fabric that has an iridescent, shimmering appearance. It's evident just how much effort the London-based brand put into sourcing, and their hard work has paid dividends in both the look and feel of their bags. These are technical materials through-and-through and perform as such – every fabric is designed to be both stain-resistant and durable so that they can be an integral part of your life for a long, long time.
These also aren't the kind of bags you'll carry around just to brag to your friends about – these are everyday bags made for accompanying you on all manner of journeys. At the centre of the ARCS solar system is the 'Hey' – an oversized sling bag that embodies everything we've come to know and love about the brand's approach to design. This cleverly engineered piece of gear features drawstrings on both sides of the body that serve to compact the bag for smaller carries, or tuck it under your arm. Even the small details have been thoroughly considered, from the recycled polyester to premium accents like vegan leather detailing and an engraved metal buckle.
Modularity comes up a lot when discussing ARCS, as the idea is for these bags to be swapped in and out of your rotation to complement different outfits and purposes. To this end, ARCS offers a 'Little Hey' that's exactly what it sounds like – a smaller but no less versatile version of its older sibling, the Hey bag. Not only does it offer a more compact solution for shorter outings, the Little Hey is assembled from leftover materials to prevent any precious fabric from going to waste. Very cool!
ARCS' ever-growing lineup of modular bags are certainly more than capable of standing on their own, but it's the brand's transparency and genuine approach that really won us over. Unlike those who boast of their corporate sustainability initiatives and carbon neutrality, ARCS freely admits that they're not perfect, but they're trying their damnedest to make a difference – one thoughtfully made bag at a time.