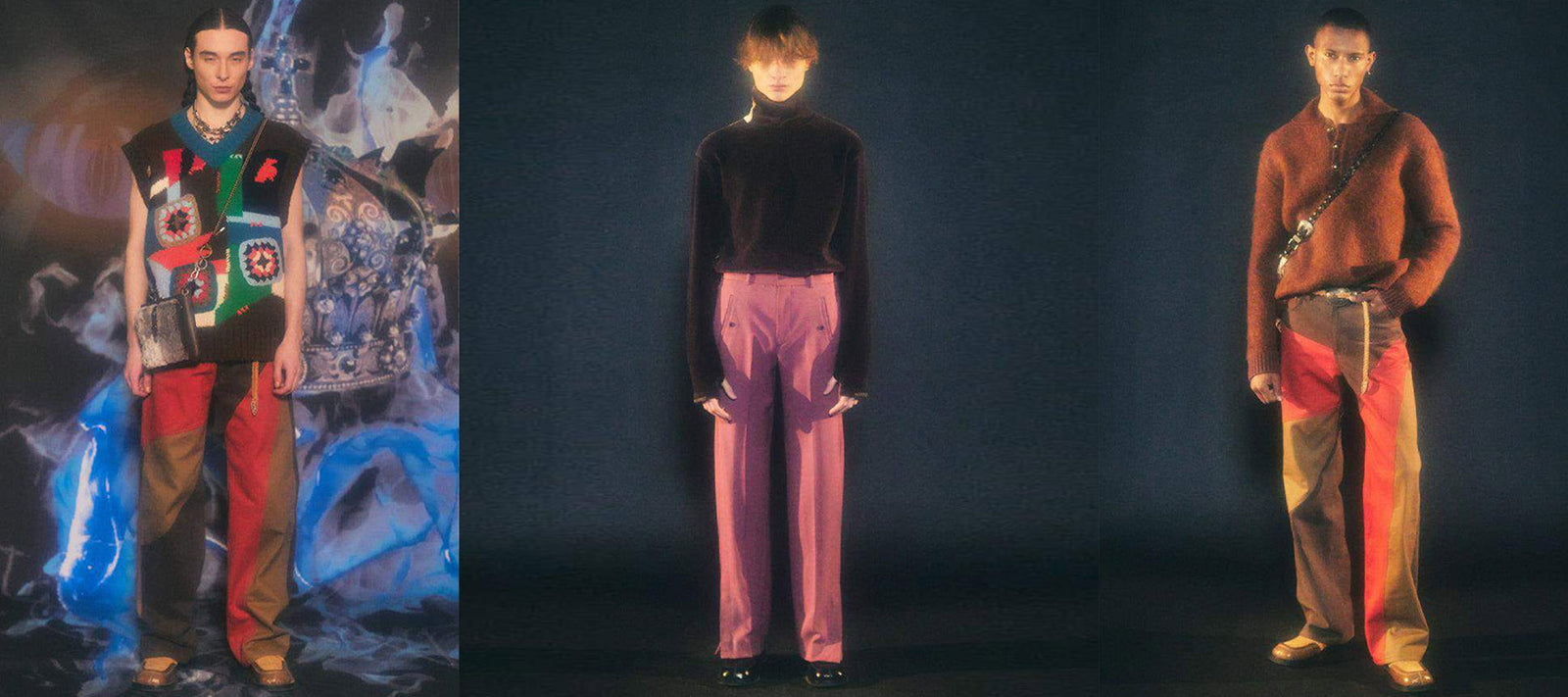 Andersson Bell Fall Winter 22 Collection
Andersson Bell is truly one-of-a-kind. The brand was conceived in 2018 by creative director Dohun Kim, who posed the question: what would Scandinavian fashion like from a Korean perspective? Youthful exuberance pervades each colourful collection, combined with Andersson Bell's unique blend of Scandi minimalism and the individuality of Seoul's street style. Their lookbooks are always a trip to behold; appearing like a Lynchian fever dream shot in Technicolor – but with a decidedly avant-garde twist, right smack in the middle of u- and dys- on the -topia scale. Still – there's something so familiar about many of Andersson Bell's styles. Though the garments may often look like they were delivered to us from a much savvier far-off future, look closer and you'll see traces of the movies, paintings, and pop culture touchstones we all know and love.
The resulting garments are inimitable in their design. Andersson Bell's cultural contrast manages to bring out the best of both worlds – the bold patterns and creative uses of materials are much more Korean in influence, but the cuts and many of the pieces themselves seem like they're straight out of Copenhagen. Off-centre closures are commonplace, patchwork and stripes feature in nearly every collection, and influences range from Crocodile Dundee to John Lydon in his Public Image Ltd. days. As the brand has evolved, Andersson Bell aren't limiting themselves to just Scandinavia – Kim is on a mission to reinterpret the classic garments of the world through his own lens, informed by the styles of Seoul.
Andersson Bell Fall Winter 22 Collection
All of the above are on display in Andersson Bell's fall-winter 2022 collection, which is a real kaleidoscope both in terms of the broad colour palette and the dizzying array of influences at play. Andersson Bell make a really great sweater and there are lots to go around, like jacquard knit cardigans in both trendy camo and palettes that are giving serious mid-century vibes. For all their extravagance, Andersson Bell's styles are always extremely cozy and surprisingly easy to pair with whatever you've got on, and that's once again the case here. Shearling-esque fabrics have a big moment in this collection as well, on everything from duffle coats to teddy jackets, as do classics like denim and leather in a variety of iterations.
Stay tuned for more on Andersson Bell – the South Korean-Scandinavian iconoclasts will be hitting our shelves shortly.
Back to Homepage