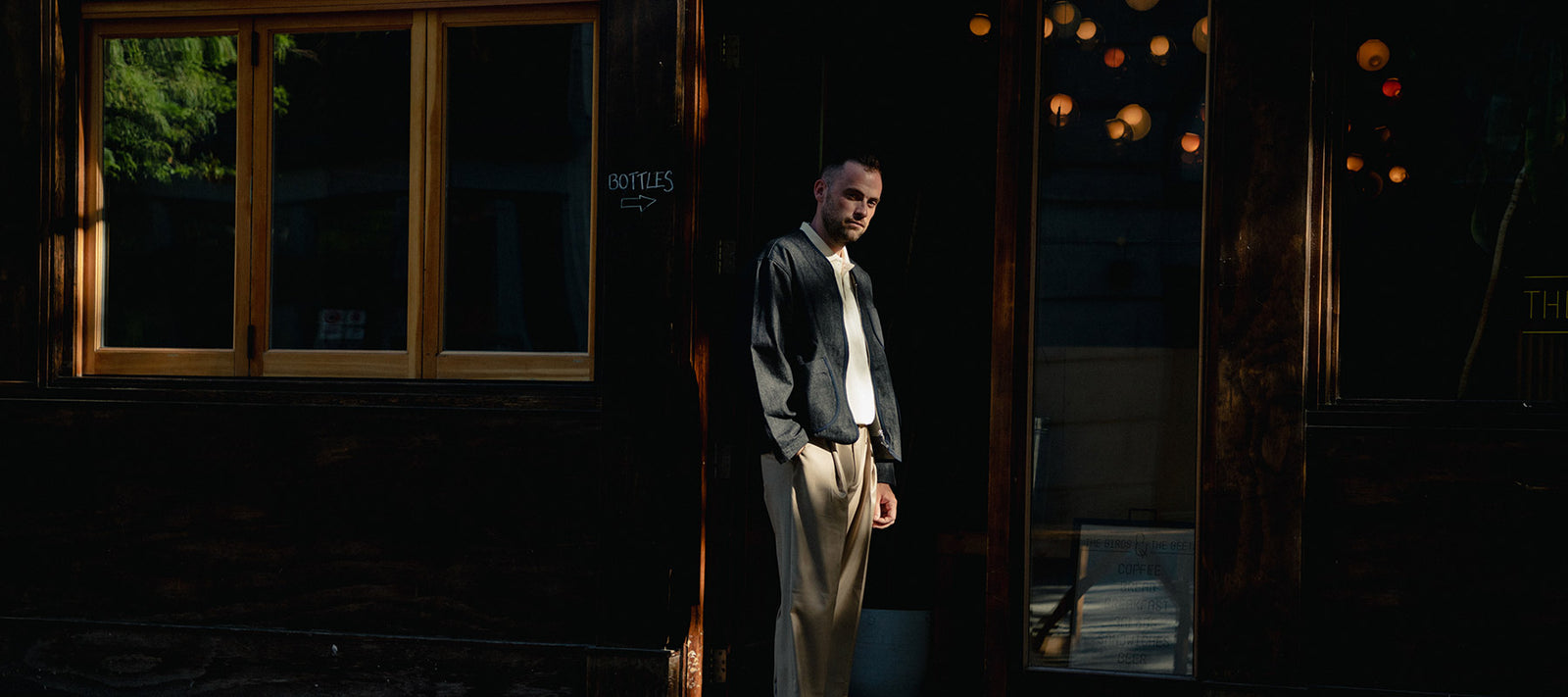 Wallace Community Fit: Devon in Uniform Bridge
This edition of Community Fit features our friend Devon! Devon is a guy who's easy to be around. He enjoys being with friends and sharing good food and drinks together. His style pulls inspiration from movies and TV shows, with Kramer from Seinfeld being the inspiration behind his more recent looks! When he's not running
Thank You Pizza
in Vancouver's Chinatown neighbourhood (check it out, we love it), Devon enjoys being in spaces where he can unplug, particularly somewhere he can swim! Learn more about Devon in our Q&A below.
What are your passions in life?
My passions in life are simple, good food, good wine, good music, good company! I love being with friends enjoying food and drinks together. Also love riding my scooter, nothing makes me happier ;)
What inspires your style?
What inspires my style is usually based around what makes me feel good. I try my best to not look like everyone else and pull inspiration from movies and TV shows. For example, right now I'm re-watching Seinfeld and I'm trying my best to recreate Kramer's style: vintage polos with cool patterns and dressy pants with a nice leather shoe.
What do you like about the outfit you're wearing?
What I like about the outfit I'm wearing is always based upon my mood. How do I want to feel today and how do I want to be seen? I like to try and set myself apart in small ways. Maybe I'm wearing vintage Carhartt jeans but then a really nice shirt to offset the vintage look. I just want to feel good and to do that I want to look good.
What place in the world makes you feel the happiest?
I can think of two places that make me the happiest on earth. I love swimming in open water. There's a beautiful beach in Tofino called Florencia Bay. It's easily the most beautiful place in Canada I've ever seen. Waves crashing on a beach with huge mountains in the background. I also love swimming in Cat Lake just past Squamish. I'm most happiest when I can unplug, and the only way I feel most free is when I'm swimming.
Devon's Outfit Details
FRIZMWORKS Flap Pocket Open Collar Shirt in Black
JACKMAN Pocket T-Shirt in Ivy
CAYL Flow Shorts in Black
KLEMAN Padror in Black