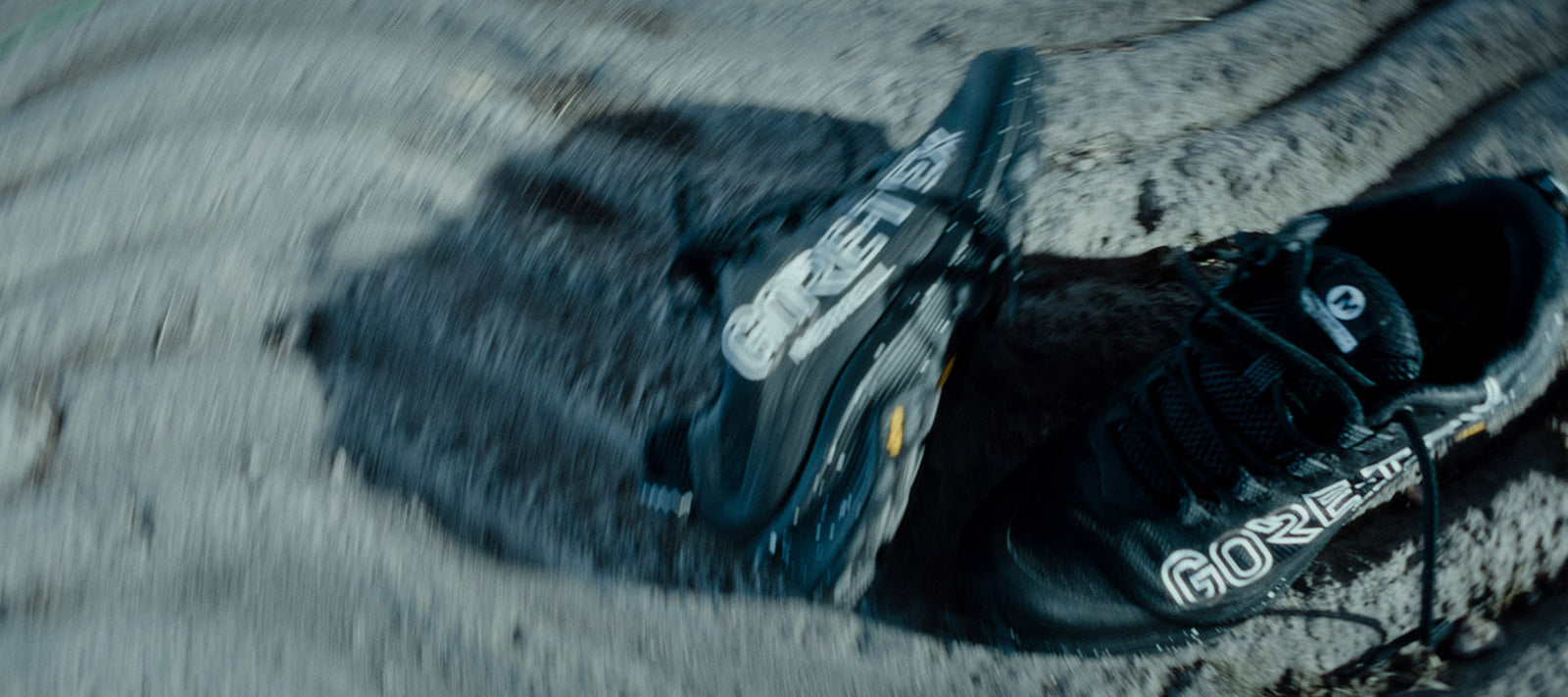 The Wallace Guide to GORE-TEX
Alas, summer's over and the rain has arrived. Now that daylight savings is in the rear-view and the premise of park hangs seems downright laughable, our thoughts are now preoccupied with finding ways to look good while staying dry throughout the seemingly never-ending West Coast winter. Thankfully, we don't have to look far. Fall, or GORE-TEX season as we like to call it, is officially upon us and your pals at Wallace have all manner of new gear to help shield you from the myriad atmospheric rivers, flash freezes, and so on that we're no doubt in store for. Today, we're talking GORE-TEX – from the INFINIUM™ to the PACLITE®; shoes to hats, and everything in between. Let this guide be your light in the storm, a beacon of hope promising warm, dry comfort in the midst of a torrential downpour.
A brief history of GORE-TEX

Trademarked by W.L. Gore & Associates in 1969, GORE-TEX is a waterproof membrane that's made by stretching a synthetic polymer called polymer polytetrafluoroethylene, or PTFE for short (don't worry, no quiz at the end). This membrane has countless microscopic holes – we're talking 1/20,000 the size of a rain droplet – that effectively repels water by just straight up not letting it in. It's a simple but effective technology that's seen countless imitators over the year, but still reigns supreme as the grandaddy of waterproof fashion tech. In fact, it works so well that GORE-TEX literally trademarked the slogan GUARANTEED TO KEEP YOU DRY™. We respect that confidence, and as yet, have had absolutely zero reason to doubt it. GORE-TEX isn't a monolith either. The O.G. fabric has spawned a number of spin-offs, the most notable being GORE-TEX PACLITE® and GORE-TEX INFINIUM™. PACLITE® combines uncompromising waterproofing and lightweight construction to create garments that can be stuffed in a backpack and whipped out at a moment's notice. This is all achieved by bonding the GORE-TEX membrane directly to the other shell, before covering it with a durable protective layer – a minimal process that yields the same results as its heavier counterparts, without the extra weight. GORE-TEX INFINIUM™, on the other hand, ditches the waterproofing altogether in favour of lightweight performance, wind resistance, and heat retention. Sure, you may not be able to weather any cataclysmic rainstorms, but you'll stay nice and toasty in this urban commute-friendly, ultra-versatile tech. INFINIUM™ is more frequently found in gloves, hats, and lighter shells – as we'll see in a minute. Alright. Now with that brief overview out of the way, let's skip to the good part and take a closer look at some of the latest GORE-TEX goodies we've got in the shop this season.
Outerwear In some climes, a GORE-TEX coat or jacket is a nice thing to have for when the weather takes a turn for the worse. Here in Vancouver, it's a downright essential if you plan on leaving the house between September and April. Wherever you are, we've got plenty of options for everyone from the bona fide gorpcore diehards to those who need something for keeping their morning commute rain-free. For when things get a lil' chilly, down lining and a GORE-TEX membrane are an unmatched one-two punch to keep you sheltered from any storm. Take the
GORE-TEX Down Coat from Nanamica
. Cropped to a perfect mid-length, this smart coat is lined with KODENSHI® down, which bolsters heat retention by reflecting infrared rays emitted by your body itself. Its slightly longer rival, the
GORE-TEX Hooded Down Jacket from Goldwin
, is similarly sleek despite the copious amounts of down packed inside. In this case, 
Goldwin
uses a baffle structure to concentrate warmth around your core, as well as other cold-resistant tech like built-in handwarmers, elastic cuffs, and a double-flap front. Both coats encapsulate what good rain gear should look like – simple, elegant, and versatile enough to slip on over a suit on your way to the office, or a pair of sweats for a late-night snack run.
If you need the warmth and not the waterproofing, this is where GORE-TEX's INFINIUM™ line shines. Prime examples are the Svalbard jacket from
Tilak
– which packs in ultra-warm Climashield® Apex synthetic insulation under a simple but effective outshell with nice touches like anatomically-fitted sleeves that allow for a full range of movement. Still not warm enough? How about the
GORE-TEX INFINIUM™ Fly Air Down Parka from Goldwin
? This pillowy marvel is designed for intense climbing situations, with a loose fit designed for lots of layering and unreal heat retention properties including a down tube lining the neck. For something lighter, try the Stinger jacket from Czech techwear gods
Tilak
. Made using packable PACLITE® Plus technology, the Stinger is super lightweight – a perfect shell for in-between weather when you'd rather be safe than sorry. This one's a dream for those whose personal style leans towards the technical – with a combat-inspired feel and practical details like a two-way front zipper, zip chest pockets, and underarm ventilation. There's also the
CAW GTX Jacket from Tilak
's more urban-oriented apparel line, Poutnik. Shockingly light with some major futuristic military vibes that would go great with your favourite all-black fit and some
HOKA Bondi L GTXs
– more on those in a sec – the CAW GTX is Blade Runner-esque in all the right ways and is light enough for all-season wear.
Finally, if you want something a little less conspicuously techy, we suggest reaching for either the
2L GORE-TEX Cruiser Jacket
or the
GORE-TEX Soutien Collar Coat
, both from The House of the Seven Seas themselves –
Nanamica
. The former is based on a classic U.S. military style with a lightweight polyester outer and breathable COOLMAX® technology at the back to keep heat in and sweat out. Last but not least, the GORE-TEX Soutien Collar Coat is a classic Mac coat that's been given the GORE-TEX treatment, sacrificing none of the timeless style's iconic features while keeping the coat lightweight and layer-able as intended. Style this one with some comfy, refined trousers (pretty much anything from Frizmworks would work a treat) and a pair of Solovairs and nobody will even know that you're secretly teched out underneath all that drip.
Shoes & Boots Footwear is another place where it just makes sense to add GORE-TEX. After all – we ask our shoes & boots to trudge through endless puddles for us, why not give the poor things some protection? GORE-TEX has always been a frequent flyer in the trail shoe realm, but brands like
HOKA
and
ASICS
have brought it to the roads with aplomb. From the French footwear brand's lifestyle line, both the
Clifton L GTX
and
Bondi L GTX
exude street style with plenty of cushion, combining the brand's patented Meta-Rocker support system with waterproof tech. Though both on the chunkier side, there's a certain sleekness to even the bulkiest of HOKA styles, For the Gorp enthusiasts though, HOKA has plenty on offer to help you stay dry while taking on even the most unforgiving trails. The
Anacapa Low GTX
is the most recent addition to our roster and an instant classic, balancing a stylish GORE-TEX and nubuck leather upper with space-age heel geometry and a Vibram® MegaGrip outsole for grippy comfort. The Kaha, available in
both boot
form and a
low silhouette
is tried-and-true, a real solid pair of stompers designed to get you through long hikes while minimizing impact on your feet.
On the speedier side of things, we've got HOKA's Speedgoat 5 GTX, as well as the
Moab Speed GTX from Merrell's
fashion-forward line, Merrell 1TRL. Both are equipped with all manner of tech designed to propel you through any puddle. The
ASICS Gel-Trabuco 10 GTX
could be lumped in this broad category as well – a versatile trail shoe designed for quick movement with a grippy sole and a Rock Protection Plate for guarding you against stubbed toes. Also from ASICS, the
Gel-Sonoma GTX
is a versatile trail runner in a hard-to-miss vivid green, loaded to the brim with proprietary ASICS features like an OrthoLite® insole and TRUSSTIC™ technology for the sole. If you want to make a statement rather than go stealth mode on the trails, we highly recommend adding this flashy pair to your wishlist.
The Wallace Guide to GORE-TEX
Hats, Pants & Accessories Have we lost you yet? No? Good – because we're keeping the ball rolling with even more GORE-TEX items for your noggin, mitts, and legs. Starting off with our lone pair of pants on this list, the Tilak Ultralight Pants are just that: ultra-light, but also ultra-warm – packing in a whopping 3 layers of GORE-TEX for good measure. They're a minimal hiking pant on the surface, but weigh just 300 grams despite their unmatched durability. Pair them with any of the blacked-out jackets and shoes on this list, as well as the excellent Windstopper Gloves from Hestra, and you're basically impervious to anything that comes your way. The latter are the only pair of gloves you'll need this upcoming fall-winter season, lined for extra warmth yet super breathable – and of course windproof – thanks to an INFINIUM™ WINDSTOPPER® membrane. Oh, and they're machine washable too! As for the hats, yes – GORE-TEX even finds its way into our headgear. For all-out waterproofing and a smart design that would be a killer match with their GORE-TEX® Soutien Collar Coat,
Nanamica's GORE-TEX Hat
is a classic bucket hat equipped with a 100% waterproof membrane and a moisture-wicking COOLMAX lining for good measure. For a more casual, Sunday morning stroll in the rain type vibe,
Goldwin's GORE-TEX Fly Air Cap
is a classic six-panel baseball cap that's been given the waterproof treatment, all-black so you can easily toss it on under a hooded jacket to further bolster your rain protection.
If you want an extra bit of warmth but not the rainproofing, take a look at the two GORE-TEX INFINIUM™ Beanies we have available from both
Nanamica
and
Goldwin
. Goldwin's is the more budget-friendly of the two, made from upcycled wool and recycled polyester, with a minimal rib-knit construction that locks in heat and keeps cold winds out. The other side of a very similar coin, Nanamica's beanie is somehow even softer on the head with an acrylic-wool blend and a shallower fit that's perfect for those who prefer their chapeaus to sit well above the ears.
That concludes our round-up of all the GORE-TEX goods we've got in stock for you this season. There's oh-so-much to be excited about in the wide world of waterproof tech, so hopefully something in this guide piqued your interest. We're always down to chat about the latest GORE-TEX gear, so pull on up to the ol' Wallace to talk shop and make all your Gorpcore dreams come true.
Shop our Gore-Tex Collection