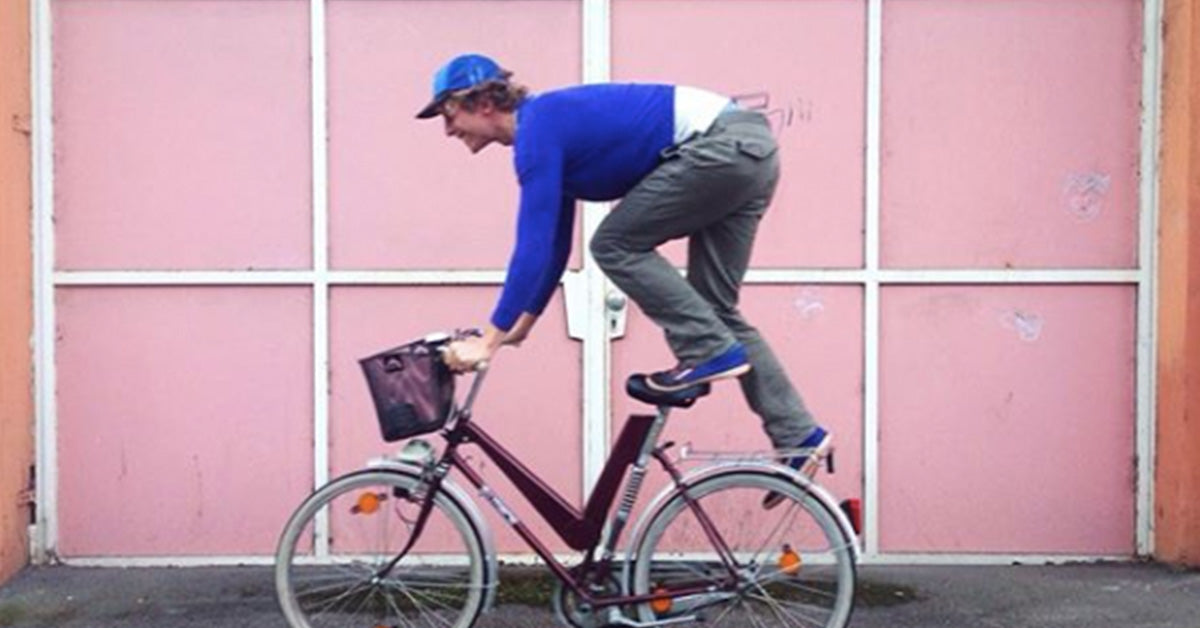 If you stop by the shop sometime this holiday season, you might notice something new adorning our windows: a festive painting of a stylish guy, created by artist and animator Joakim Riedinger.
When we sit down to chat with Riedinger about his painting, it's still a work in progress. It's the last Sunday Social of the year, DJ Evo is working his magic, people are mingling—and Riedinger is seated by the window, paintbrush and palette in hand.
Check out Joakim's Portfolio
He's all smiles and blond curls, dressed comfortably for his work. Paint flecks cover his hands. He's already completed the outline of a bearded guy clothed in Wallace Hamilton pieces, who looks swept up by the spirit of winter.
Check out his Instagram
The unfinished painting already looks great. If you're familiar with his work, his style is pretty recognizable; and if you're not, well, you still might feel like you've seen it before. After all, by day Riedinger is an animator at Sony Pictures Animation, and he recently wrapped on a pretty big project: Spider-Man: Into the Spiderverse.

Yeah, that Spiderman movie.

The film just hit theatres and if you haven't seen it—what are you doing? Get your butt in a theatre seat quick. It's fantastic.

When asked, Riedinger says he's happy about the film's reception. It's been critically acclaimed on all fronts, including (and perhaps mostly for) its incredibly animation.

"I love movement" Riedinger says in a strong, lilting French accent. He moves his arms about to emphasize his point. "Not just in art, but in life as well… a healthy lifestyle and being at ease with your body is important for a good life. To me, at least."
Riedinger explains that as a child, he found communication through art easier than through language. He also acknowledges he was lucky; his parents always encouraged his artistic passions. After graduating from secondary school, he went on to study graphic design, then animation.

A year ago, Sony reached out to him, offering a job at their Vancouver studio. The answer was a big yes that led to Riedinger and his wife packing up their bags and moving to Canada.

When he's not animating various Spider-People—and one Spider-Pig—for the big screen, Riedinger likes to focus on illustration. He pulls up Instagram and scrolls through his grid. "I love having a sense of motion and I love strong poses," he says as we flip through League of Legends-inspired illustrations, facial studies of Miles Morales ("you will love this kid!" the caption reads), and a series of tips and tricks for aspiring artists.
If you're now digging around Instagram in an effort to find his account, don't worry. We'll link it at the end.
 When asked about his Instagram following, Riedinger is thoughtful. "It's cool when people are loving your work, that's a good sign for me. If people are coming with me on my [artistic] journey, I'm completely cool with that. It's good to feel appreciated." He smiles. "But [the numbers are] not a goal."
Moving our attention back to his current work in progress, we discuss inspiration. For this particular painting, Riedinger wanted to capture a sense of Christmastime, while of course still incorporating his love of movement. Oh, and he was inspired by beards—our beards, in fact. He laughs as he remembers. "There's a lot of guys with beards around here."
 For Riedinger, personal style is like art: it's a way to learn more about a person. "I love to watch people on the streets. To see how they express themselves."
The bearded character Riedinger is currently painting for the store is fully outfitted in clothes sourced from the shop. That was another thing Riedinger wanted—to feature clothes you could find in the store.
He enjoys Wallace Hamilton's selection. "My favourite thing [about the shop] is coming in and feeling the clothes. The quality of the materials. Every time I touch the clothes, the quality impresses me so much. The colours, the shapes. In my eyes, I don't see that too often."
 To say that we're impressed with his work, too, is a bit of an understatement.
This holiday season, stop by the store to see Riedinger's complete painting in person. It'll be gone in the new year, so enjoy it while it lasts!
Thank you again to Joakim Riedinger for Wallace Hamilton's amazing new holiday art. We love it. And of course, we're looking forward to seeing your next big animation project on the big screen.
Check out Joakim's Portfolio
Check out his Instagram