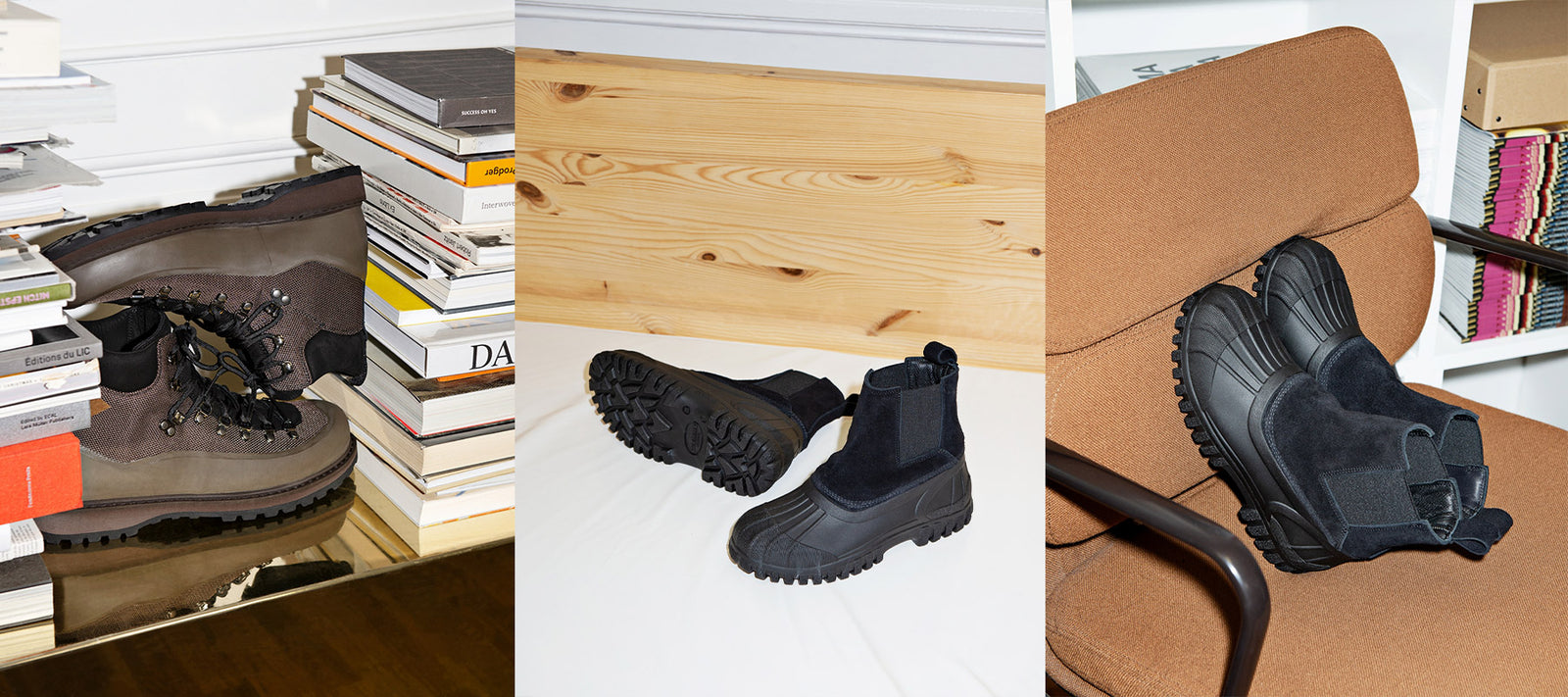 Diemme boots Fall Winter 22 Collection
If you haven't yet had the pleasure of gazing upon any of Diemme's exceptional hiking boots, hunting shoes, sneakers, and everything in between – allow us to show you the light. You'd be forgiven for not recognizing the name, though. The brand has managed to keep a relatively low profile despite an extensive series of collabs with heavy hitters like Stone Island, KITH and GANT, to name a few. Both Diemme and its fraternal founders Dennis and Maico Signor hail from the Italian Alps – the small village of Onè di Fonte in the Veneto region, to be more specific. This mountainous locale and its renowned footwear-producing factories informed much of the brothers' design sense, not to mention their passion for quality. True to their rugged heritage, the brand produces shoes that serve a distinct purpose without compromising on style.
Believe it or not, Diemme has been making shoes since the 90s, just not always under their own name. That's not to say that their origins were humble though – stop us if you've heard any of these names before: Maison Martin Margiela, Chanel, Bottega Veneta, Nonnative… Diemme has produced shoes for all of them. With a rolodex like that, it's hard to imagine Diemme's breakout as solo artists being anything less than stellar, but their wholly authentic, undeniably cool footwear has rightfully earned its place in the pantheon of truly great shoes.
Diemme Boots Fall Winter 22 Collection
Diemme's Roccia Vet boot has become the benchmark for urban-adapted hiking boots, possessing the deadly combination of a classic silhouette, light frame, and that undeniably Italian style. Its distant cousin the Everest boot on the other hand, shows that Diemme can deliver some seriously heavy-duty gear, too. Designed for high altitudes and sturdy as can be, these boots can summit any peak with padding galore and a surprisingly versatile look that is just as at home in the big city. Leaning into the hunting influence a bit more, the Balbi boots are a Chelsea-Duck boot hybrid that works oh so well, with a suede upper and rubber base. Let's not forget their sneakers – styles like the Possagno and Marostica make timeless silhouettes all their own with Diemme's focus on performance features.
To fulfill all your luxury outdoor boot/shoe needs, we've got plenty of Diemme headed to the shop as we speak. Stay tuned – our inaugural arrival from these titans of Italian footwear will be hitting our shelves soon.
Back to Homepage
SHOP DIEMME