Men's clothing can be a bit boring sometimes. Not to say that we don't love an oxford cloth button down, but at a certain point it's nice to try something new. For us, Copenhagen's Soulland scratches exactly that itch. Originally a skate brand that printed graphic tees, Soulland has transitioned into a full menswear collection without losing that irreverent skater attitude. Nowadays you can trust Soulland to deliver wild prints, luxurious menswear, and top tier basics, but they also manage to surprise every single season.
In 2002, Silas Adler was a high school senior who spent his time skating, hanging with his friends, and not caring about school. Inspired by other skaters who had started their own clothing brands, Adler decided to start printing graphic tees under the label Soulland. The skate DNA from these early days still exists in Soulland's collection, such as in the Public Domain tee and Commuters Trilogy tee for Fall/Winter '20. It also carries over into their sportswear, which often displays playful graphics and wry phrases (e.g. their Public Domain hoodie and Stilleben Square sweatshirt). This was Soulland's bread and butter for the first few years, but as Adler matured, so did the brand.
In 2008, Swedish entrepreneur Jacob Kampp Berliner joined Soulland as an investor and CEO. With better funding, Adler was able to experiment and develop the brand beyond its skateboard roots. Since then, Soulland's collection has come to include a full range of menswear, all with the brand's own personal sense of not giving a fuck. The shirting is louche, the streetwear cheeky, and the quality excellent. Being from Denmark, Soulland borrows plenty from Scandinavian minimalism, but has a lot more fun with it. Their button up shirts, trousers, and jackets all cut a clean silhouette, but the patterns and prints are show-stopping. A perfect example of this is the Orson silk button up, a strong shop favourite for Fall/Winter '20 and a signature silhouette of the brand. It's a timeless camp collar shirt, but printed with a gorgeous painting of a vase of flowers (on front and back), and all on a powdery blue background. It's one of the boldest pieces we have to offer for Fall/Winter '20, but somehow it's still extremely wearable. This unique middle ground between wild and wearable is where Soulland thrives. Adler has mentioned in the past that he rarely pays attention to what other menswear brands are doing, and it shows in pieces like this.
Soulland has become known for its forward-thinking spirit, not just in design but also in business practice. Both Adler and Berliner are passionate about producing as locally as possible, so the Danish brand sources and manufactures nearly all of its products in France, Italy, and Portugal. Appreciation of craft and heritage is an important reason for this, but so is sustainability. Soulland aims to reduce their emissions by minimizing the distance between their factories and HQ, and they also source materials from GOTS (Global Organic Textile Standard) certified factories wherever possible. This kind of effort is not commonly seen among brands that also have high-profile collaborations with Nike SB and Playboy. Soulland is certainly a one-of-one, and we're excited to have that unique presence in the shop for Fall/Winter '20.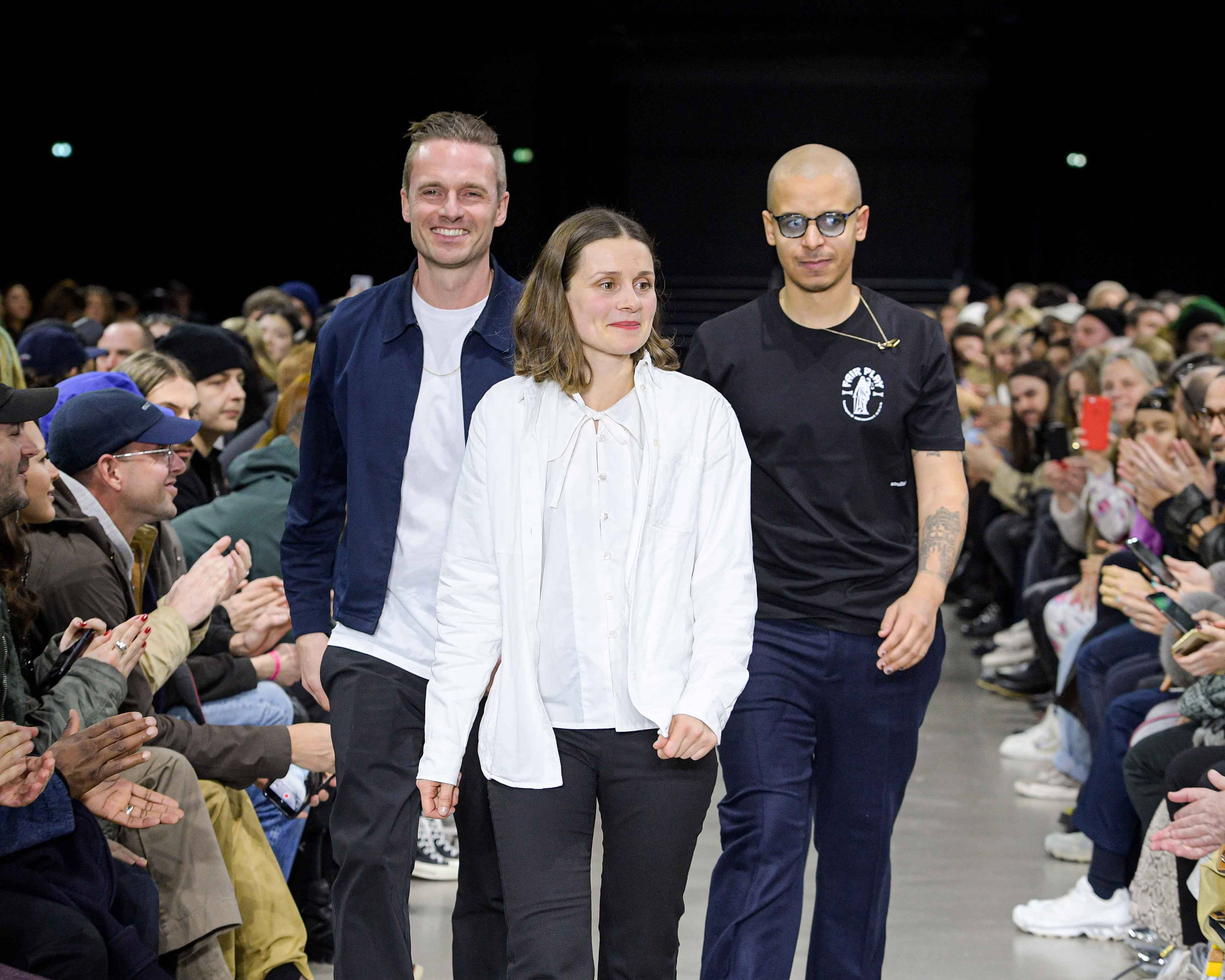 Discover Soulland Fall/Winter 20 runway