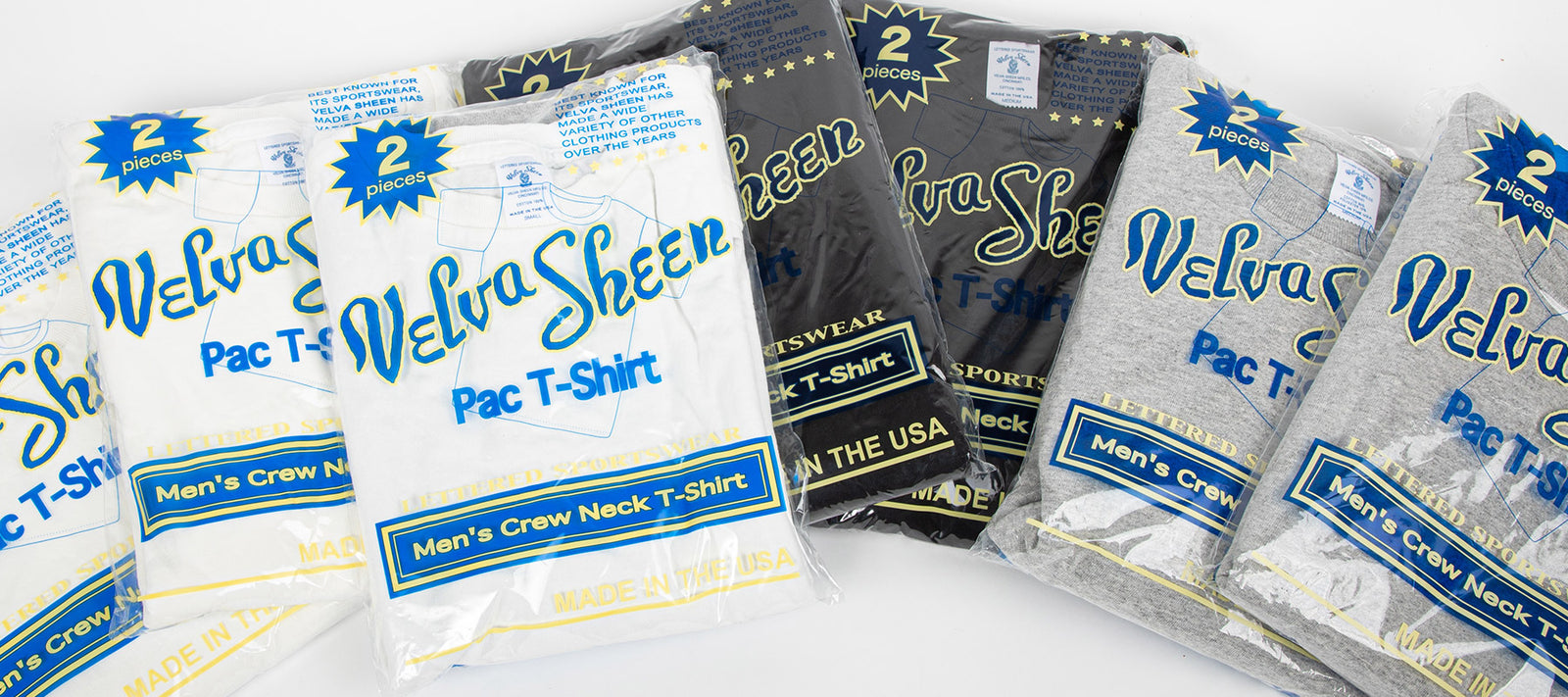 Velva Sheen T-Shirts
Two truths about the menswear community: 1) we LOVE heritage, and 2) we live in the age of the t-shirt. Anyone with a pair of eyes and a pulse knows it, and that's exactly why we adore Velva Sheen. This old-school American label has been a shop mainstay for several years now, first joining the Wallace stable with their unimpeachable 2-Pac Tees, and now with numerous other sporty offerings such as their Freedom Sweatshirt. Although the Velva Sheen name is well known amongst vintage heads and menswear aficionados, much of the brand's history has been lost in the murky haze of time. Mystery aside, let's go over the information we still have.

Velva Sheen was founded in Cincinnati in 1932 by a man named Oscar Schroeder. That's all we know for sure until the postwar era, when Velva Sheen became a widely available sportswear brand thanks to contracts with the US Marines and various colleges. Because of this sudden explosion of Velva Sheen products in the 1950s and '60s, we can surmise that the brand was contracted by the US Armed Forces during WW2, likely supplying knit underwear and athletic basics. Scaling up production for the war effort would have prepared them to take off as a commercial business in the late 1940s. At some point after the war, Velva Sheen coined the term "lettered sportswear" to describe their unique services of customizing sweats and jerseys. Organizations as varied as the US Military, amateur softball teams, universities, and summer camps ordered their custom sportswear from Velva Sheen.
In the 1970s Velva Sheen became a major player in the burgeoning field of graphic tees. During this time, they were best known as a supplier of Disney merchandise, and many of those tees are coveted by vintage collectors today. Velva Sheen also printed shirts for Warner Brothers, particularly the Looney Tunes characters. Sadly, this golden era of made-in-USA souvenir tees came to an end in the late '80s, when outsourcing to Asia became standard practice. Velva Sheen fell into dire financial straits and the label was shuttered in the mid 1990s.
In 2009, nearly twenty years after their demise, the Velva Sheen label was purchased and revived by Topwin, a Japanese-owned clothing company based in Torrance, California. Specializing in knitwear and run by some serious vintage heads, the Topwin factory was uniquely equipped to resuscitate Velva Sheen, and they did so with absolute adherence to the brand's old manufacturing methods. Today, every Velva Sheen tee is made on vintage tubular knitting machines which knit the body in a single piece. The lack of side seams makes the body of the t-shirt stronger and more comfortable, but it also means that each machine can only make one size of t-shirt. Such is the tradeoff of old-school manufacturing: better quality, worse scalability. But it's not just the garments themselves that are faithful to their predecessors—Topwin also recreated the old labels and packaging from the brand's heyday. It's not a stretch to say that when you buy a Velva Sheen t-shirt today, you're getting almost exactly the same product as you would have fifty years ago.
EXPLORE VELVA SHEEN
Velva Sheen Introduction