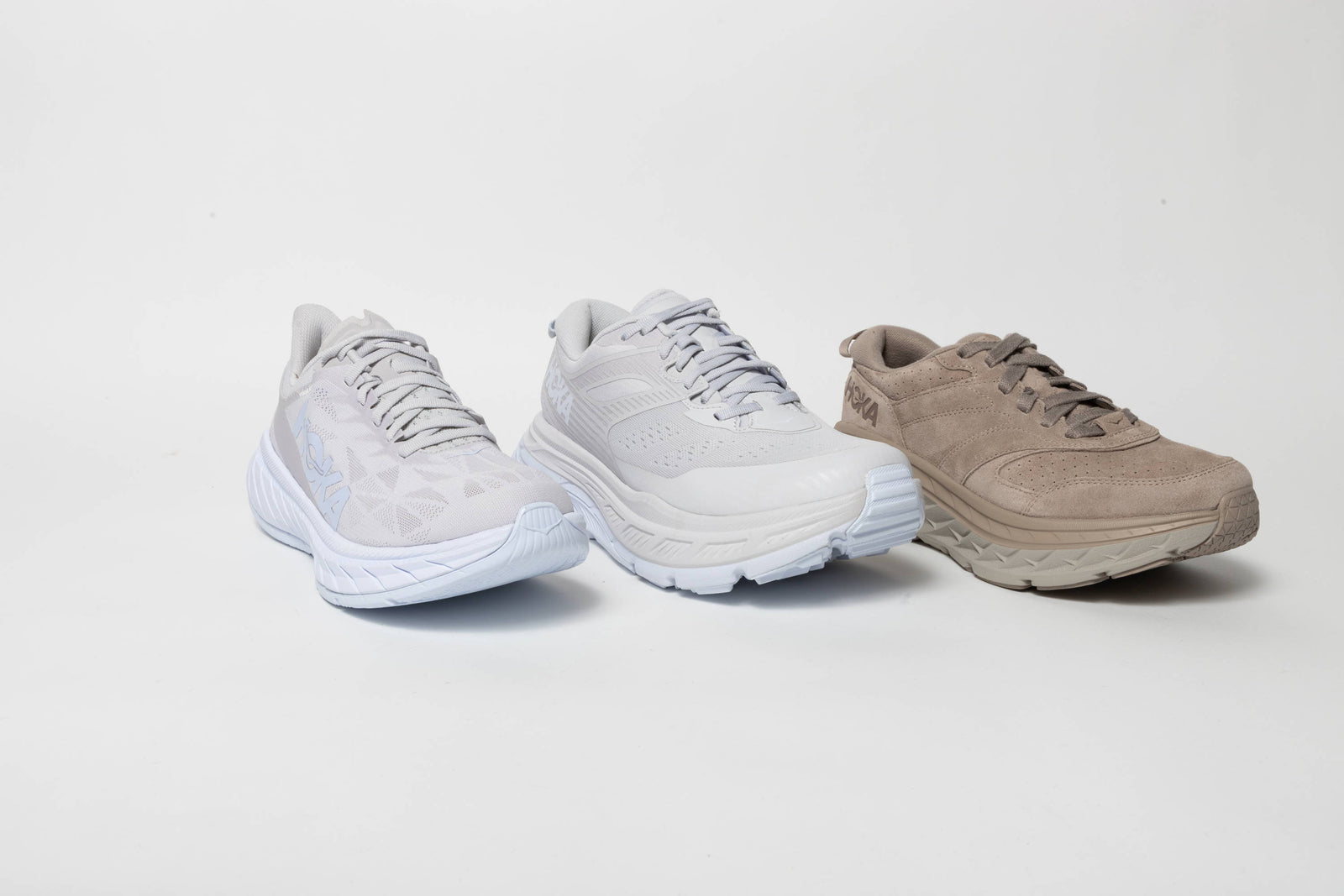 ---
Last year, Hoka One One did the fashion world a real solid when they released their Lifestyle Collection, reimagining the classic Bondi and Clifton models with slick leather uppers. This season Hoka went back to the well, blessing us with the Bondi L in suede and rereleasing some of their performance models in a "Variant White Pack". Naturally, we got our grubby paws on a few pairs: the Bondi L Suede, the Stinson ATR 6, and the Carbon X2.
---
---
Let's start with the Bondi L Suede, an old friend of ours with a new look (and which we have exclusively in women's sizes—sorry fellas). The Bondi L Suede features the same sole and shoe geometry as the Bondi 7, but the suede upper elevates these kicks to new, extremely stylish heights. Hoka calls this colourway Simply Taupe/Pumice Stone, but we just call it fresh. It hits an interesting goldilocks zone between military khaki, beige, and grey, and with the suede upper it's unexpectedly sophisticated.
---
---
The Stinson ATR 6 is a totally new model for us here at Wallace. This is essentially Hoka's trail version of the Bondi 7, so it follows that the Stinson ATR 6 is built with enough cushioning to stop a runaway train. In fact, it has the highest midsole volume of any Hoka shoe, providing both next-level comfort and a good inch and a half to your height. Hoka describes the Stinson ATR 6 as a "hovercraft", and we tend to agree.
---
---
Rounding out our SS21 Hoka Lifestyle Collection is the Carbon X2, a sleek endurance racer that looks like it came from the year 3000. This streamlined shoe has all the technical features that Hoka could throw at it: carbon fiber plate in the sole, aggressive meta-rocker, gusseted tongue, removable EVA sockline, the list goes on. The Carbon X2's midsole is firm by Hoka standards, giving it an energetic and responsive feel, but not at the expense of comfort. If you're the type to log serious road miles on your running shoes, the Carbon X2 will serve you well. If you're the type who just loves beautiful sneakers, the Carbon X2 is still a winner.
---
---
---