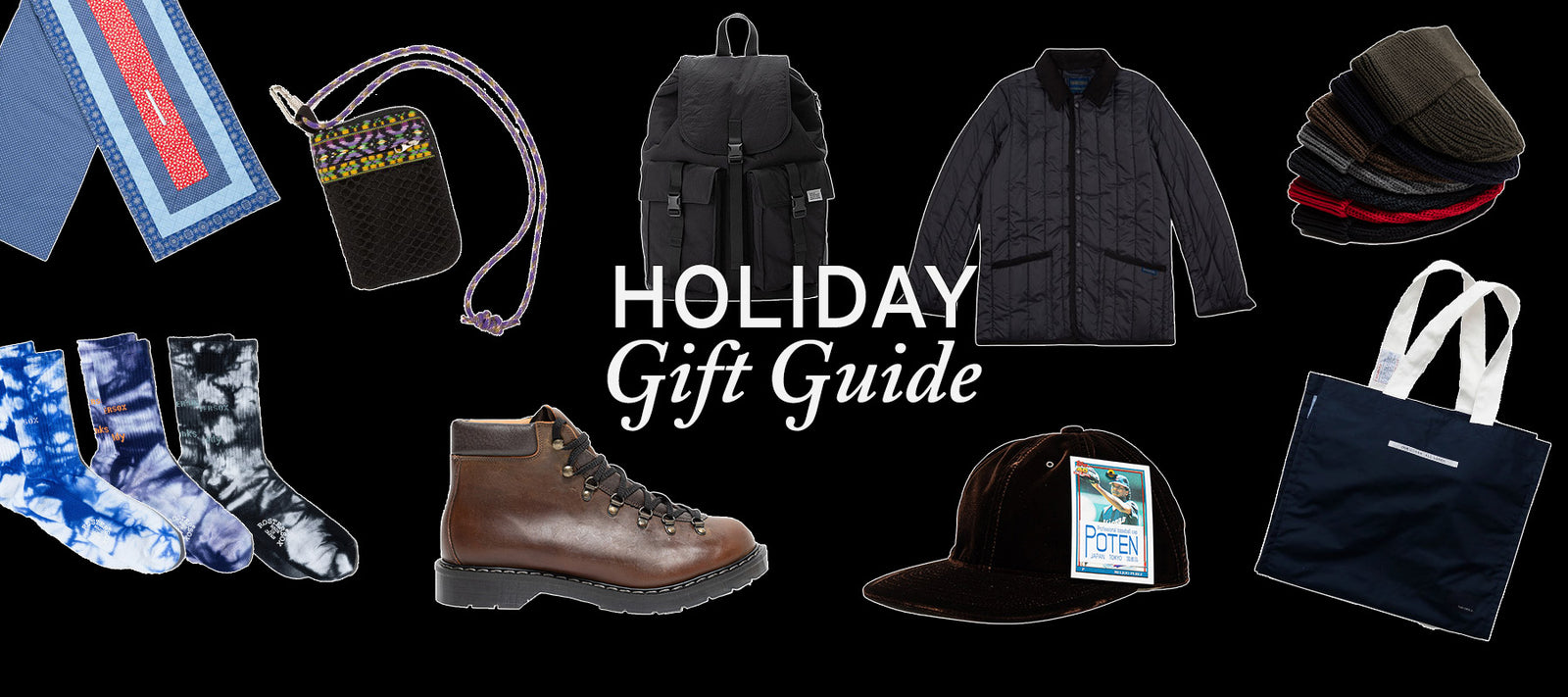 Holiday shopping got you down? Fret not – this year's Gift Guide has arrived with our top picks for all the folks on your list.
Starting us off is the
Andersen-Andersen
Short Beanie in Natural Brown. Compact and heavy enough to hold their shape for years, these 100% merino wool beanies are perfectly rolled and oh-so-comfy – perfect for the tiny-hat afficionado in your life. We're partial towards the brown iteration, but this easy-going beanie's also available in Navy Blue, Black, Grey, and Hunter Green.
Did somebody say socks? We did! But these ones are a little different.
Rostersox
are Japan's answer to the ultra-durable baseball sock, handmade in a variety of cool patterns and colours. Our favourites are the Thanks Buddy Socks in Navy Blue, but do check out their whole… roster… for more of the best socks you'll ever experience.
For your grumpy uncle, surly stepbrother, or just someone who appreciates a super high-quality plain tee,
Velva Sheen
has practically perfected the garment – and they're selling them in Packs of Two! We're leaning towards the White/Oatmeal combo for versatility's sake, but we've got 'em in all the basic colours for your shopping convenience.
Practical accessories are always a good call for the holidays, and we've got plenty of options.
Sweetch
Laptop Cases, available in a variety of colours and both 13" and 15" variations, are made by craftsmen in Korea and feature a coated canvas exterior to keep their contents safe. For the forgetful hiker/globe-trotter on your list, look no further than the retro outdoors-inspired
S.K. Manor Hill
Neck Wallet. Ensure that your loved ones never lose a wallet again thanks to stylish & durable paracord, offset by jacquard accents and a carabiner for added practicality.
The
Solovair
Urban Hiker in 'Greasy Black' are Goodyear Welted for winter wear and look great on just about anyone. Pick up these stylish stompers for the urban adventurer on your list – you really can't go wrong with Solovair. Better yet, pair these slick boots with the
Uniform Bridge
Cotton Fatigue Pants in Forest Green for one helluva nice present. The Korean menswear outfit is known for creating durable essentials with an ever-so-subtle twist, and they executed that flawlessly with these military-inspired fatigues. Perfectly cropped for boots or sneakers and good year-round thanks to a midweight 8oz cotton twill, these pants are a one-way ticket to the gift-giving hall of fame.
'Tis the season for practical outerwear, and we've got it in spades.
Goldwin
has brought us some truly special offerings this season, and we think their Micro Fleece Half Zip in versatile Cloud Gray would make a truly excellent gift. Easy to layer and super warm thanks to a compact weave, this pared-down staple is a no-brainer for anyone trying to make it through a West Coast winter in style. If you're looking to dial up the warmth even more, check out the
Frizmworks
M65 Field Liner Jacket in Orange. This showstopper of a mid-layer is more than warm enough to be worn on its own, but it could just as easily add a pop of colour under a heavier coat. Frizmworks did a killer job of updating the military staple, adding in circular pockets and a slightly darker trim to make it an absolute knockout, and a gift nobody would dare turn their nose up at.
Capping us off is the Raydon Cuffed Jacket from
Lavenham
, in their 'Lamp Black' colourway. If you're really looking to drop the mic on your holiday gift exchange, this is the jacket for you. Lavenham has been making superb quilted outerwear in Suffolk, England since 1969, and this exemplary effort captures everything that's made them such a sought-after label. You've got a classic-cool vertical quilted pattern, corduroy collar and trim, and a ton of warmth from the 65% recyclable wadding that pads out the jacket. Need we say more? For whatever you're looking for this holiday season, be sure to swing by the shop and check out all the great stuff we've got on offer.
DISCOVER THE FULL GIFT GUIDE