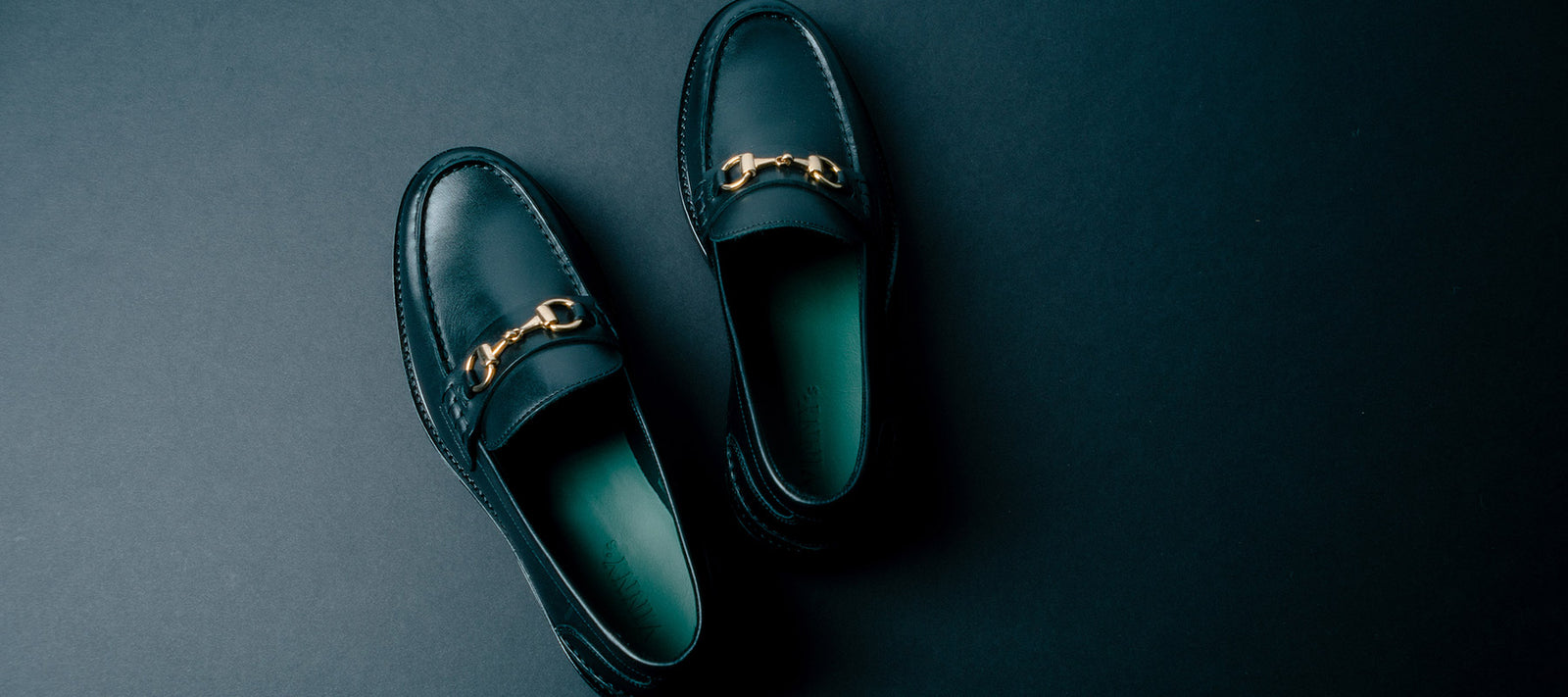 Vinny's Loafers
We have a special appreciation for brands that do one thing really well. The deep understanding and expertise that comes from carefully honing your craft over years of practice is hard to replicate and tends to result in a superior product when all's said and done. For our friends at Vinny's, that one thing is the penny loafer. Though they often experiment with the many spin-offs of the iconic style, all roads lead back to this one shoe.
Encapsulating the ethos of post-war Ivy style, the versatile penny loafer was a shoe that could truly accompany you from the cradle to the grave. Often the first pair of dress shoes you'd own due to its lack of laces, the penny loafer was sophisticated enough to hang around Wall Street offices yet lowkey enough for weekends in the park sipping brews. Its calling cards were a moccasin-like upper and a "saddle" across the width of the shoe – which also served to give this new shoe its name, having an opening just big enough to snugly fit a single penny. The penny loafer has never really gone out of style in the years since, but we'd posit that it hasn't been getting the attention it deserves.
Enter Vinny's. Spearheaded by trendsetter, designer, and loafer afficionado Virgil Nicholas, Vinny's was launched back in 2020 with a singular mission to put the penny loafer back in the spotlight. The fledgeling brand's immaculate vibes and updated takes on the classic shoe clearly resonated with discerning audiences, who greeted Vinny's with almost immediate success. It didn't hurt that these "beefed-up" (as Vinny's themselves puts it) loafers not only oozed relaxed style, but were thoughtfully assembled as well – handmade in Portugal with high-quality leather and well-sourced
Leaning on the sense of easy comfort that can only be gained through familiarity, Vinny's infuses their shoes with ample amounts of nostalgia and relaxed style. The shoe that started it all is the Richee Penny Loafer. As classic as classic gets, this reworked loafer remains the centrepiece of Vinny's lineup, drawing inspiration from Nicholas' favourite pair of shoes growing up to create a timeless silhouette with some much-needed updates. Though it's always been easy on the feet despite its stuffy origins, the Richee delivers comfort on all fronts with modern additions designed for all-day wear. Ditching the nice-looking but admittedly impractical leather outsole in favour of a lightweight rubber lug, the Richee Penny Loafer is designed to last longer and go further while retaining the spirit of its predecessors.
Vinny's Loafers
The true beauty of the loafer and its myriad descendants is that they occupy a semi-formal space that goes with really anything. Jeans and a tee? Jazz it up with some loafers. Got somewhere nice to be? Pair them with some relaxed trousers and a drapey shirt. For the latter in particular, Vinny's delivers with the Le Club Snaffle Bit Loafer. Popularized by Gucci back in the 50s, this snazzy style adds a bit of gold hardware to the iconic strap, making the shoe that much more debonair – though Vinny's does an excellent job of adapting the Le Club for contemporary, informal situations. Not just for the fellas, the Le Club is also available in women's sizing – the only difference being a gorgeous blush pink lining. Other recurring characters appear occasionally in the Vinny's extended universe, like the Aztec Boat Shoe and an unforgettable collab with Soulland that brought us a zany, tasselled pony hair Palace Loafer that we still can't quite get over.
For now though, we advise that you heed Vinny's advice and pick up some loafers post-haste. Your fits, and by extension your life, will be better for it.