For 17 years now, Nanamica has been making classic menswear with a sense of adventure; an uncommon mix that has grabbed our attention at Wallace Mercantile. That's why we're proud to introduce this iconic Japanese brand to the shop for Fall/Winter '20. There aren't too many brands that can make you want to hike a mountain in a blue button up, but somehow Nanamica makes it seem obvious. Their attention to silhouette and fabric is the stuff of legend, and it really comes through in the clothing.

Nanamica was founded in 2003 by Eiichiro Homma and Takashi Imaki, both of whom had worked extensively in the industry and felt that something was missing from the menswear landscape. Imaki was coming off of a successful tenure at Champion, where his designs had helped the brand become a Japanese favourite. Homma had worked at Japanese sporting giant Goldwin from 1982 to 2001, where he was in charge of the Japanese license for Helly Hansen. Under his direction Helly Hansen's popularity exploded within the Japanese sailing community, and in the meantime Homma developed a love of sailing himself. With their collective experience, Homma and Imaki set out to create clothing that was relaxed and traditional in appearance, but that had the functionality of technical garments. They were both passionate about iconic garments from the past and wanted to update them for the modern city-dweller. As Homma said in an interview with MR PORTER, "the aim was to create the ultimate mix of fashion and function with no compromise."

This M.O. is visible in every Nanamica piece, from their suits down to their tote bags. We were especially impressed with their accessories this season, so we're delighted to offer a selection of their GORE-TEX hats and water-resistant bags. As for clothing, we have the merino Hybrid Cardigan and the legendary ALPHADRY Club Jacket and Doc Pants. These two pieces can be worn together as a suit, a combo which Eiichiro Homma himself wears when on long flights. Nanamica's signature ALPHADRY fabric is composed of high-quality polyester fibres which are lightweight, wrinkle-resistant, and moisture wicking, resulting in garments that can be worn all day and still look sharp. Nanamica is well known for their commitment to fabric technology, and Eiichiro Homma's ties to Goldwin gives the brand early access to newly developed fabrics.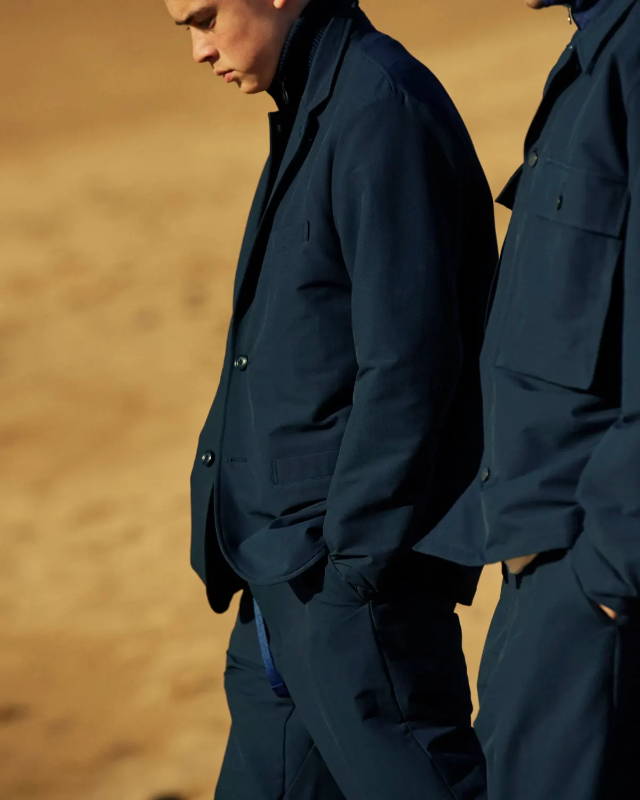 "The aim was to create the ultimate mix of fashion and function with no compromise"

Nanamica's use of technical fabrics is impressive on its own, but it's the way they combine this with a laidback style that makes the brand special. Nanamica means "house of the seven seas", a title which hints at their love of all things nautical, as well as the inclusive way in which Eiichiro Homma conceives his designs. He views Nanamica clothing as tools for life, items which anyone can wear and be comfortable in. Homma takes inspiration from his own life as a wearer of Nanamica products, but he also pays close attention to other people during his daily commutes—a fitting exercise for a designer with a sociology degree. This thoughtfulness is found throughout Nanamica's collection, whether it's in a GORE-TEX mac coat or an oversized button down. The garments are relaxed, almost calming, and strike a lovely balance between polish and informality. Nanamica never feels too fashion-forward or too technical, and it's that unique in-between that makes their clothing the kind of thing you want to wear every day.