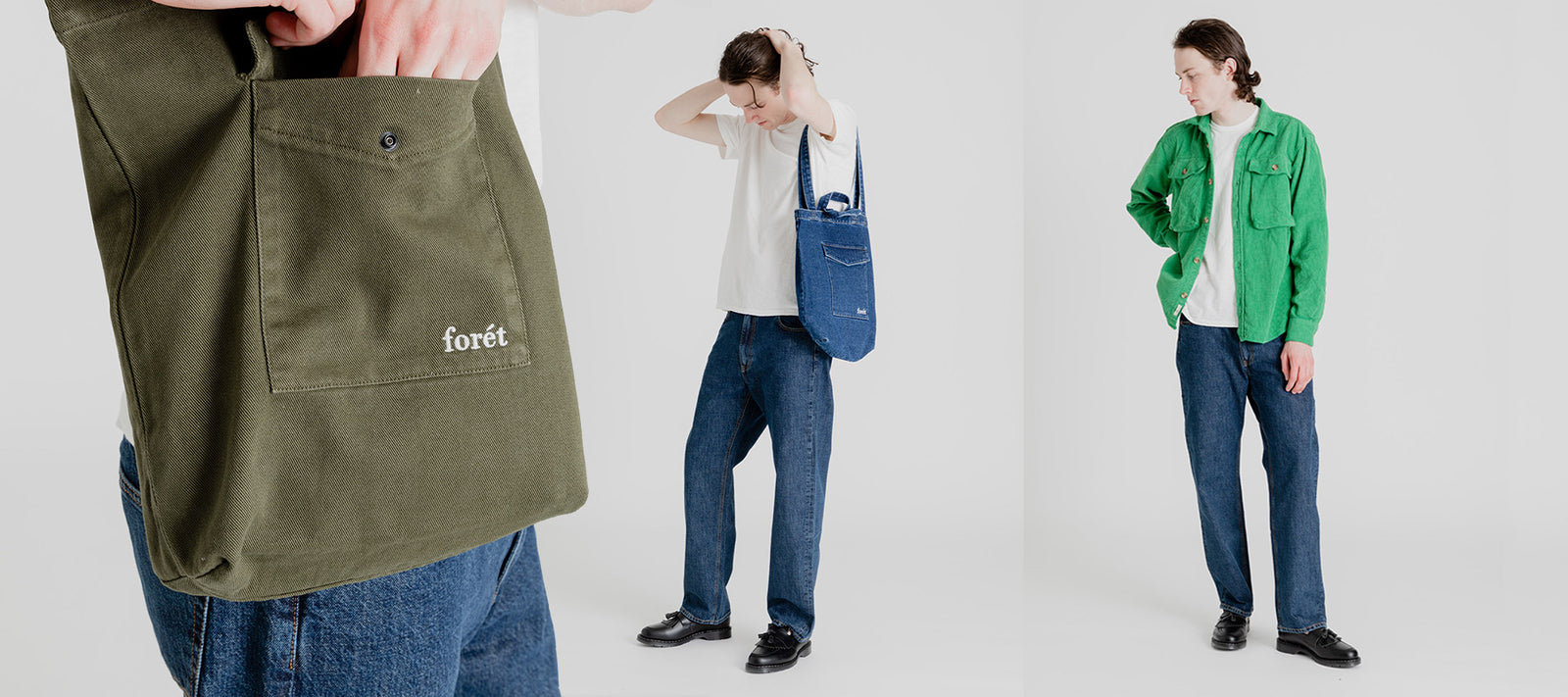 Foret Studio Introduction
Foret was created on the simple but powerful premise that even the most mundane facets of life deserve great looking, adventure-ready attire. The guys behind the brand are childhood best friends Jeppe Meier and Jesper Finderup who together, inspired by fond recollections of the Danish countryside, brought their collective vision to life in 2014. Ever since, they've been making their mark on Denmark's ever-evolving fashion scene by channelling their trademark whimsy and effortless appeal into consistently solid lineups of clean, minimal staple pieces and fun seasonal attire perfectly suited to any journey – even if it's just a trip to the grocery store.
Shirting is an area of particular pride for Foret, and there's no mincing words here – "we consider shirts a piece of art" the brand boldly states, and it's hard not to agree. The cuts are impeccable, and materials are all carefully chosen to reflect an iconic style, albeit with that distinctly modern Scandi-style vibe that continues to set fashion blogs ablaze. Perennially popular fabrics like denim and twill make frequent appearances in just about everything – including, but not limited to: outer layers like the Rowan Overshirt, versatile shirting like the Fennel Denim Shirt, functional tote bags, and even… jorts? It's like someone Extreme Makeover'd your grandpa's closet – the styles may be familiar, but the actual garments are distinctly modern and better yet, they fit like a dream.
Foret certainly isn't bound by the past though – there's a sense of child-like playfulness to much of their clothing that's hard to replicate. It being summer and all, we've got plenty of shorts like the all-purpose Home Shorts, the brilliant green Nettle Shorts, and of course, the heralds of the jean short renaissance we've been waiting for – the Parade Shorts in all their denim glory. At the risk of playing favourites, we think the crème de la crème of our inaugural delivery from the Danish menswear mavens is the Gone Corduroy Shirt. This stunner is made from super soft corduroy in just about the nicest shade of green we've ever laid eyes on, accented with classic horn-looking buttons to seal the deal. Of course, we've got t-shirts too – and they're waffle knit! The Park T-Shirt is totally dreamy with a nice & boxy fit and a lil' Foret logo emblazoned on the chest. We could go on all day, but we suggest you heed Foret's advice to slow down, go offline, and make your way over to the shop to check out their latest collection for yourself – it's in the shop now.
Foret Studio Brand Introduction