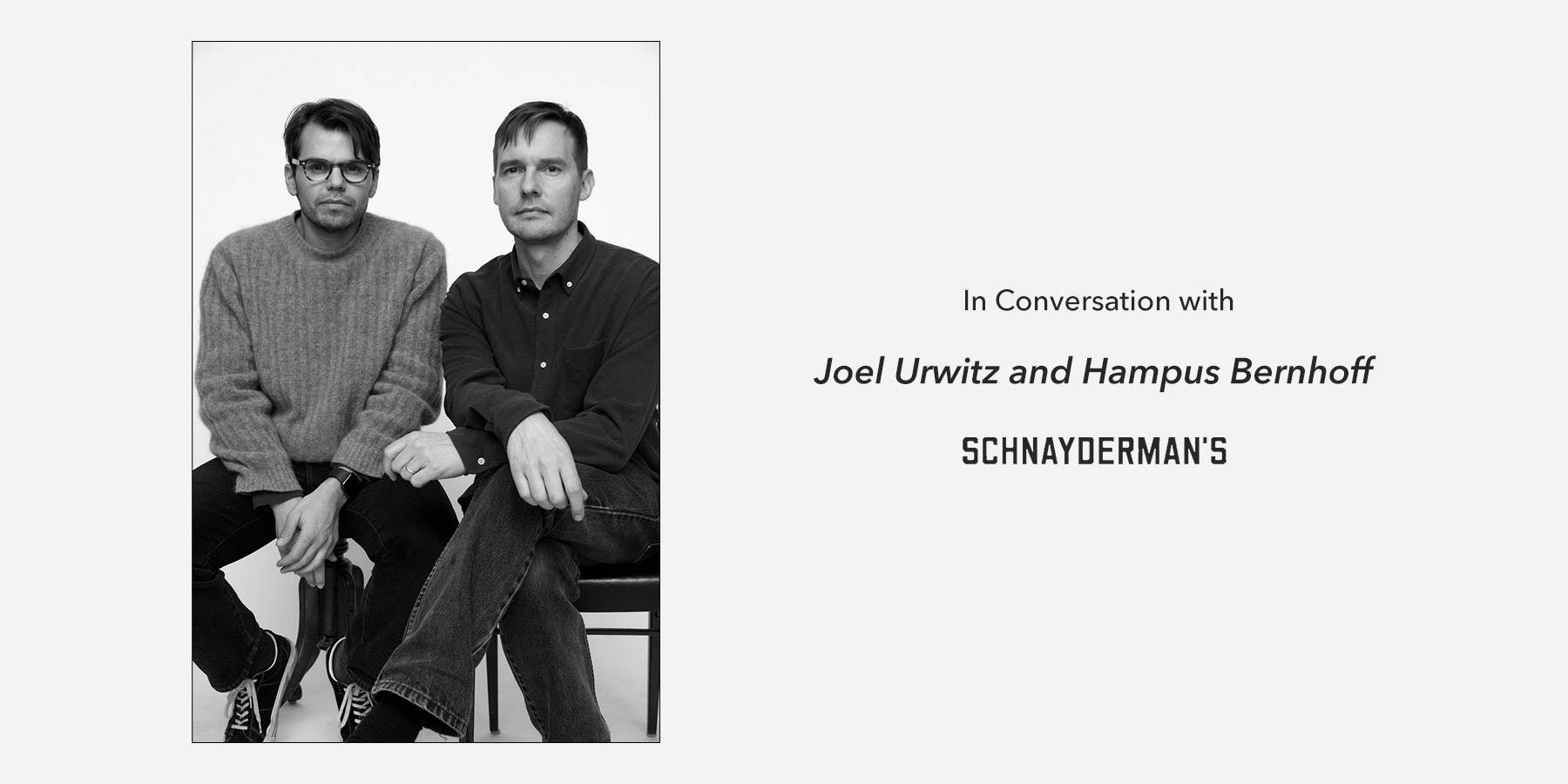 ---
There are few things more magical in life than wearing a truly fantastic shirt. When the cut's just right, and the collar lies just so, and the fabric feels like pure luxury, you know you've got yourself a winner. Here at Chez Wallace, we have yet to find a brand that consistently conjures this shirting magic better than Schnayderman's. Launched in 2012 as a "one-stop shop for shirts", these Stockholm-based sorcerers have since evolved into a full collection brand, offering trousers, coats, and sweatshirts every bit as gorgeous as their shirting. To untangle the mystique of Schnayderman's, we called up two of the brand's head honchos, founder Joel Urwitz and creative director Hampus Bernhoff, for a discussion on all things sartorial…

---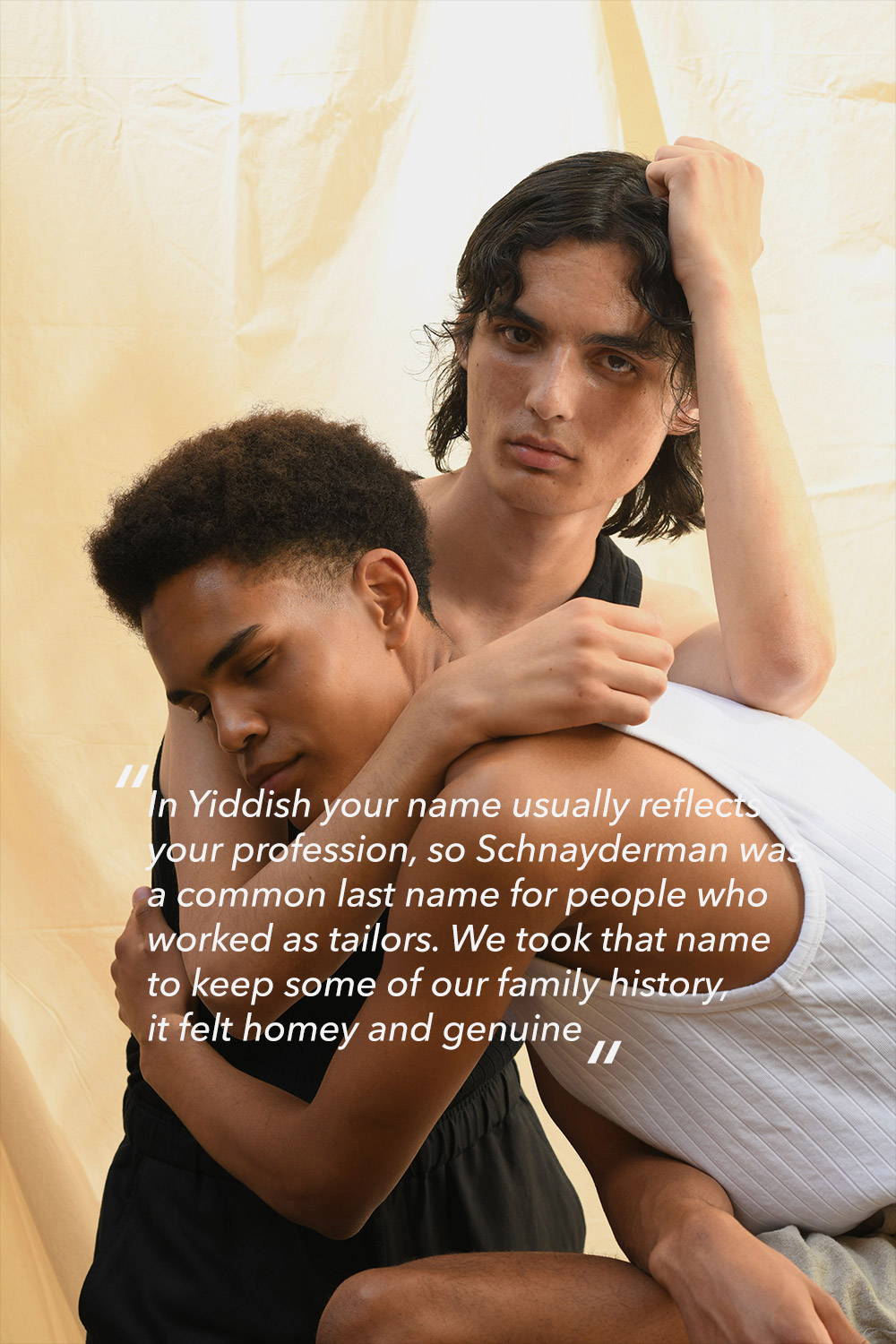 Let's start with the name "Schnayderman's". It's quite memorable, I heard that it's Yiddish for "tailor-man". Why did you name the brand Schnayderman's and why is that name significant?
Joel: I started the company with a friend of mine and we both had roots from Eastern Europe. Our grandparents came to Sweden in the early 20th century and Yiddish was the language the spoke, and they also worked in the business of making clothes. In Yiddish your name usually reflects your profession, so Schnayderman was a common last name for people who worked as tailors. It was a name that felt homey and genuine. We took that name to keep some of our family history, while the brand itself is more contemporary.
Growing up, did any of your relatives work in tailoring or make clothes?
J: Yeah, my great grandfather came to Sweden and started a belt factory, which my grandfather later took over. Then my partner's father bought that factory and they started fighting. It's funny how this belt factory was in both our families. My father ended up working in a totally different field, but then my partner and I came back to that old profession, even if we did more shirting than belts. My grandfather died before I started Schnayderman's, but I think he would have been happy that his grandson came back to his profession.

Wow, that's a great history. Did you and your partner know that the factory was in your family's history or was that just coincidence?
J: We were friends and knew we had that history. When we decided to start Schnayderman's together, we thought it was funny that his father and my grandfather did this business together and actually had a fight about it. His father ended up closing down the factory and we came back a generation later. We haven't fought yet, we're still partners (laughs).

Man, thank goodness for that! So Hampus, you're the creative director. How long have you worked with Schnayderman's? Were you there from the beginning or did you come to Schnayderman's later on?
Hampus: Later on. I met Joel four and a half years ago and we started working on taking the brand beyond just shirts. We developed a new path for Schnayderman's together, into a full collection.

Joel, were you doing the creative direction before Hampus came on?
J: Yeah, at the start I was doing the design with my partner when it was more of a friend's project, mostly just shirts. Then we worked with a designer friend of ours who had worked at Acne Studios with Hampus. Hampus was coming back to Sweden after living in LA, and our mutual friend thought we'd be a great fit together. So we met and we spoke the same language, and at the same time we decided to take Schnayderman's beyond just shirts. We took the leap to make Schnayderman's a full look brand and that's been Hampus's creation. We've been together almost five years and I don't even remember what Schnayderman's was like before Hampus (laughs).

H: It's been a nice journey because we haven't forced anything. Our first season together we still only made shirts, but we introduced a woven t-shirt, and each season we've added new pieces. I think we've grown sustainably in a way, because all our products work really well together.

So you guys didn't have that really sharp growth and expansion as a brand.

J: Exactly. We feel like it's a lifetime project and we're not trying to do everything at once. We spend lots of time finding the right way to introduce a new product. We want to be fair to our customers and give them something really good.


I think that's a great philosophy, and it definitely shows in the clothing. Now, let's go farther back. How did each of you become interested in clothing, and what was your journey to getting involved in fashion?

H: When I was younger I felt a bit constrained by the society I grew up in, Sweden can be like that sometimes. At least, in my school, if you weren't the best student at drawing you weren't really allowed to think you could do something in that field. So I studied economics, but when I finished my studies I realized that wasn't where my passion was rooted.

I decided to move to London and take a foundation studies in art and design where I could try different disciplines. I did art, sculpture, painting, textiles, and that was where I found my passion for fabrics. I applied to Central Saint Martins and did a bachelor's and master's in fashion design. I guess my interest grew from a frustration with academia and I ended up being a creative, which was an amazing journey, I have to say.

---
After you graduated from Saint Martins, did you work with Acne?

H: Yes, I got a job at Acne Studios and worked there for four and a half years. After Acne, I wanted to do something else in fashion so I started my own consultancy company. I went to New York and worked with the Olsen twins [at The Row] and then moved to LA and worked with a lot of brands there, both in fashion and interiors. I moved back to Sweden and continued consulting, then met Joel and that's how our journey started.

ow about you Joel? How did your passion for clothes begin when you were younger and how did it lead you to start a brand?

J: I was always interested in clothing, and both my parents are too. My grandfather on my father's side worked in the business and my grandmother was a model, so it was always in my family. As Hampus said, neither of us grew up in a family or society where you were encouraged to go into a creative field. For me, my two options were law or finance. I went to law school and never really liked it, even when I pursued a career as a lawyer. I worked for four years in a corporate law firm and just didn't feel like I got anything back from it, so I took a leave of absence from the firm and went to Washington, D.C. to do a master's in law. I had to take a couple credits of law, but all the other credits I took in entrepreneurship. When I came back to Sweden, I met with a friend and we decided to start our own clothing brand. We started with shirts because we couldn't find a great fashion shirting brand and we wanted to fill that gap. You could shop around from different brands but I didn't think any of them took it seriously. I always loved shirts and wearing them casually, so I wanted to create that specific shirt brand I was missing. Now Schnayderman's is a full look brand of course, but our roots are always in shirting. It came naturally to start a business where I could do a product I really liked, where I could be creative and also be an entrepreneur.

I imagine you wore lots of dress shirts as a lawyer. Was there any frustration with having to wear crispy dress shirts every day?

J: I like dress shirts, but at the time in Sweden there were so many ugly shirt brands. I thought we could make nice shirts that could also be casual, so we started making basic shirts that I thought every man needed in their wardrobe: a great denim shirt, corduroy shirt, oxford. In the beginning they were quite simple, but then we began adding fashion prints, unique fabrics, incorporating more experimental stuff.

What were your main influences for the type of shirt you wanted to make? For example, oxfords and Ivy style, Savile Row dress shirts, Italian dress shirts with cutaway collars. Were you inspired by one specific style?

J: To create the perfect shirt you take inspiration from any place you can, so I looked at all three, the British, Italian, and American. My main main influence was the casual approach of American shirting, but I didn't like the American fit. There wasn't really a fit, it was just a tent. So I took that American style and added a less-is-more Scandinavian touch. The first style we did was the classic button down and it's still one of our best sellers.

There's certainly a balance between wearing a shirt casually and swimming in it. I guess that's how you guys like to wear your shirts too, not too big but not skinny either. There's still drape and movement to it.

H: Yes, there's nothing I dislike more than a really fitted shirt. We're never going to do that, I don't think, but never say never (laughs). Like Joel said, we still use the original pattern for our button down, and that's how we try to work with every product we introduce. With the Shirt Boxy, for example, I think we've nailed that fit and it's going to be the same pattern for future seasons. We try to be sustainable from a design point of view. You're going to recognize a lot of our fits, but maybe there'll be a new fabric or detail. That's how we want to build the wardrobe.

I guess once you've nailed down the silhouettes, you have more freedom with the fabrics, and every season you seem to find some amazing obscure textiles. Like for SS21 you did the Overshirt Boxy in denim jacquard, which blew our minds. What are the defining factors that make you choose a specific fabric?

H: We spend so much time on that. We travel to lots of fabric fairs and source in Paris, Milan, or Stockholm. There are a couple mills we've been working with for a long time, and those are like loving long-term relationships. For us, selecting a fabric is about texture and how it works with other fabrics in the collection, and we've also introduced more drape. We want the collection to feel eclectic and not flat. With the denim jacquard for example, I wasn't sure about it at first, but there was something different about it and we wanted to try it.

J: It's also important to have things that stand out, especially selling online. Hampus and I have spent a lot of time working together and I think we've developed something we call "a really Schnayderman's fabric". The jacquard definitely stands out, but what always works best are fabrics that have that extra something. Sometimes it'll be a basic fabric, but with a really nice handfeel and something that makes it different from any other fabric. For example, we used a wool with a waffle, almost seersucker texture. That small difference in the fabric made it amazing. That's a typical Schnayderman's fabric.

H: We rarely just buy fabric and make something out of it, sometimes we dye it or give it a specific wash. We alway try to take it one step further so you really notice that difference.

J: Most of the fabrics we've talked about are wovens, but it's the same with jersey or knits. For example, our jersey is a bit heavier and washed, which is something we spend a lot of time on. We can't just buy it at a store. We've made it together with our developers and factories to make the perfect weight jersey.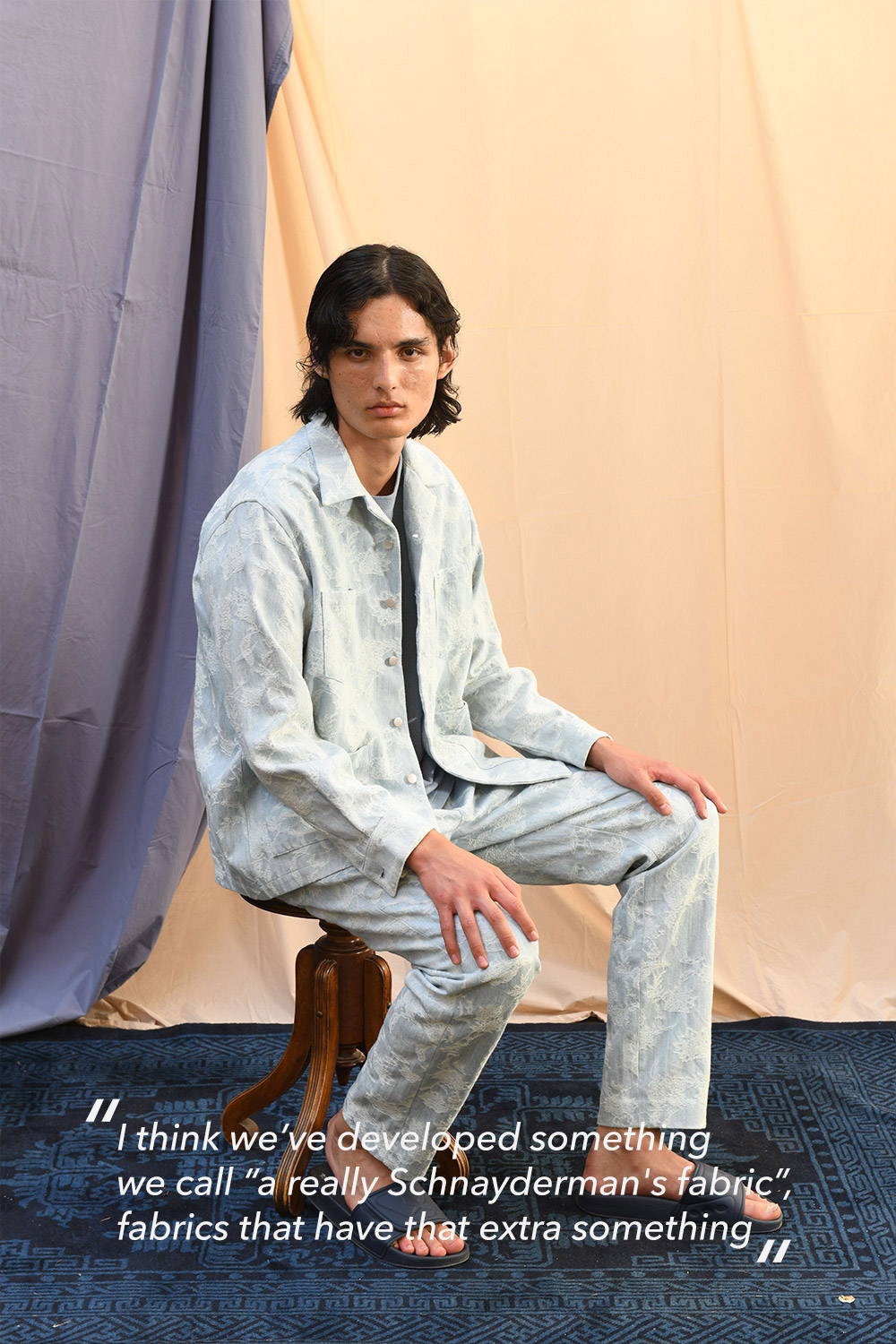 ---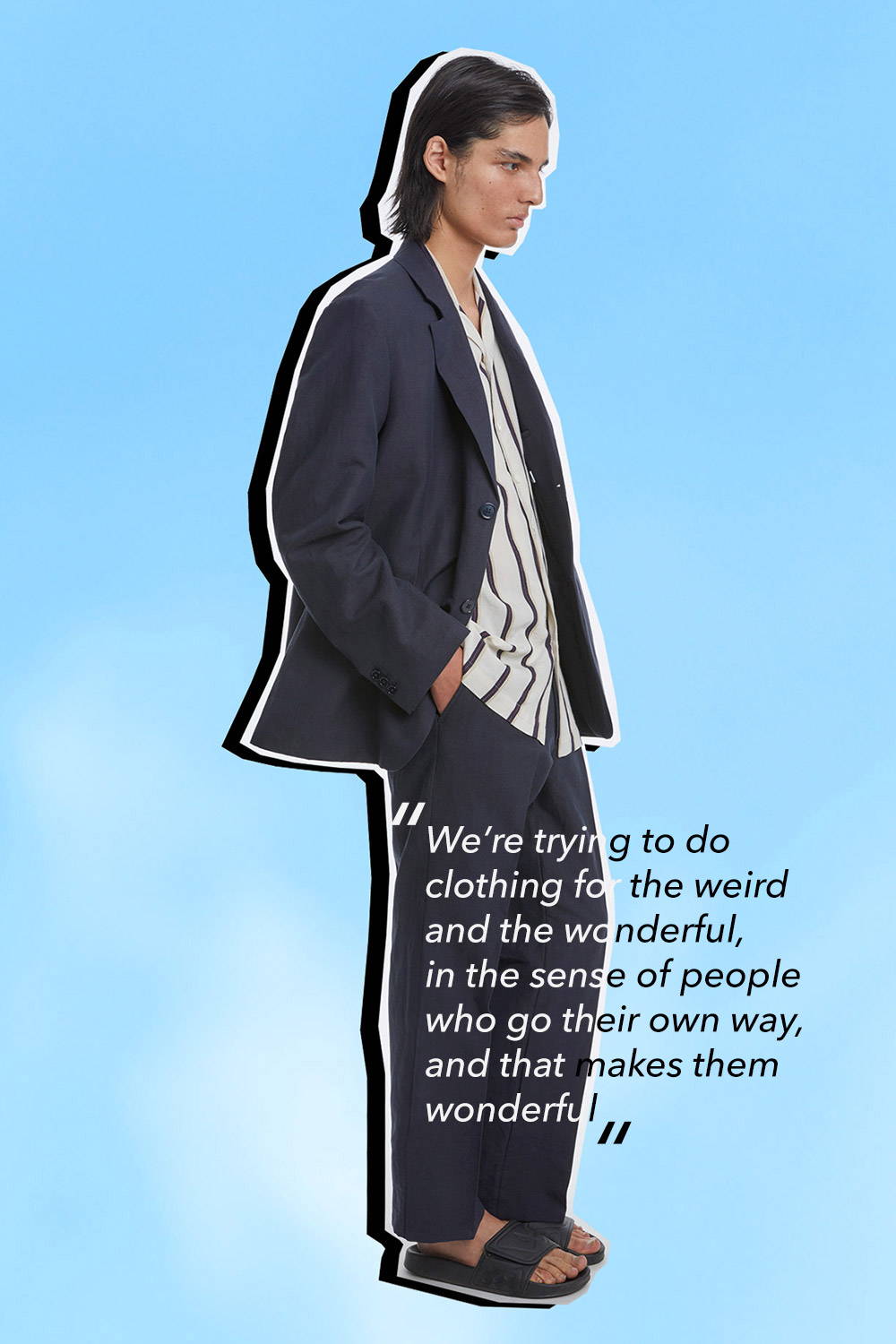 Do you have wash houses that you go back to again and again if you want specific things done?

H: Yes, most of our fabric mills are in Italy or Portugal, and that's also where we have specific wash houses. We've been working with many of them for a long time so we have specific ways of doing things. It's important to build those relationships with the people you work with, they're not just some factory you dump a lot of product on. They're experts at what they do.

J: That relationship is very important because sometimes it takes a couple of seasons to get it correct. We grow as we work together, and they'll continue to understand us and our criteria more.

What goes into getting that perfect wash when starting with an undyed fabric?

H: If we have a fabric we love but it's lacking a specific handfeel, we approach our factories with multiple references. It could be an old shirt we have in our wardrobes, or a vintage garment with a lovely patina, or the stitching on a handkerchief. It's a collage of different things. We want them to get inspired by, rather than recreate, those components and we develop something together. It's a long back-and-forth with lots of trials and samples. While the design process is quite quick, the development usually takes many weeks.

Does it ever take more than a season to get a garment or fabric exactly right?

H: Sometimes we'll have fabrics or dye effects that we intend to release one season, but if it hasn't reached the point where we're happy it spills over to the next. There are always ongoing projects that we work on simultaneously. It's a long process.

I can imagine, it sounds incredibly meticulous. Outside of fashion, where else do you each draw inspiration from? Do you have specific hobbies, interests, or pop culture that influences your work?

H: Yes, so much. We rarely look at fashion for inspiration. Instead, we try to build our collections on a meaningful theme, which usually are born from conversations in the studio, or as a reaction to what's going on in society. We've built collections on freedom, identity, outsiders, always themes we relate to in some way. We also look a lot at photography, I'm a huge photography fan. Recently, I was really inspired by the Netflix series We Are Who We Are. Inspiration comes from everywhere.

J: We're both very into art, and you can see that in all the artist collaborations we do. This season for example, the People Print was by a Swedish illustrator [Julia de Ruvo]. We'll also be releasing a photography collaboration this season, and a lot of these things merge into our collections. And like Hampus said, we want to touch on non-fashion subjects and discuss them with our customers and retailers, to add more value to the clothes than just the clothes themselves. Lately we've been working on how to communicate better, how to show what goes on in our studio aside from just the clothes. There's so many other things we think are important and we want to share that.

H: Also, we're a bit tired of hearing about collections that are just inspired by, like, punk rock for example. There have been so many collections with that theme already and we want to inject something else into the mix, not just aesthetics.

Alright, last question. It's kind of a silly one, more like a thought experiment. Say you've got a whole wardrobe of shirts from different brands and none of them are labelled, but there are some Schanyderman's shirts in there. What makes the Schnayderman's shirts stand out to you?

J: I think it's in the details. We spend a lot of time on the fit, fabric, wash, all those components. I think lot of shirts focus on one of those components, but we focus on all of them. You feel the love for the garment, and I think if you do everything right that's what stands out from a bunch of other shirts.

H: I think another thing that stands out is that our fabrics are often a little heavier and more substantial. It's hard to explain but there's something when you hold the garment that makes you realize it's not just a shirt.

I absolutely agree. I remember last season we had the Overshirt Boxy in moleskin twill and the fabric looked quite simple, but once you felt it it was incredibly soft and substantial. Anyways, that about does it for me. Any last things you guys want to say or plug?

J: Well, we've been trying to find a way to talk to who our customer is, and we found this sentence we really like: we're trying to do clothing for the weird and the wonderful. In the sense of people who go their own way, and that makes them wonderful. They're outsiders, but they're outsiders taking their own path. A lot of brands make clothes for a skate lifestyle, or creative lifestyle, but I think we've always seen ourselves as outsiders and that's something that sums up our brand and the clothes we make.

H: Yeah I think that's a good closer. These kinds of personalities that we encourage and are inspired by, it only makes sense that we try to dress them. Schnayderman's is definitely for the weird and the wonderful.

---
---